Monday, February 27, 2006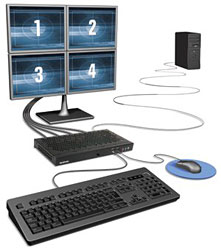 Kudos to the good folks over at Gizmodo for locating this piece of sheer technical wizardry.
Ok its not THAT exciting but its pretty cool - I want one!
The Matrox Extio F1400 is a high-end remote box that allows four monitors, a keyboard and a mouse to be separated from their host computer by 820 feet of fiber-optic cable. It's a great idea to have your workstation far, far away from the area where you actually do your work, and this F-1400 takes that concept to the extreme, giving you everything you need right next to you but relegating that heat-producing workstation and its noisy fans to a closet, out of sight and out of mind. Perfect for audio studios, broadcasters and other high-end applications, it's expected to be available the second quarter of this year.
Saturday, February 25, 2006
I am upgrading my phone.
I have done a fair it of research into the O2 family of phones and an going to get either a O2 XDA IIs or a O2 XDA Atom.

Here are a bunch of links to websites that provide great phone reviews for these and other phones and technology.
Mtekk
Nycom
O2 site - doesn't include the Atom yet
Softpedia
GSM Arena
XCPUScalar - overclock your phone!
Cheap Memory Australia
XDA IIs User Guide (PDF)
Setting up the XDA IIs/i as a modem (PDF)
CNET reviews Windows Mobile 5. Here is thier review of the ATOM which uses the new Mobile 5 and the XDA IIs which uses the old Pocket PC 2003 software.

Finally here is a very "alternative" Sony Ericsson P990i Review & ALK Technologies Co-Pilot Live 6 Bluetooth GPS Software Review for Windows Mobile 2005 Devices!! The Bengal Boy website is for bleeding edge tech and some glam and is barely worksafe.
Tuesday, February 21, 2006
While reading OWASP today I came across Andrew van der Stock's plea to the PHP Development team to shape up and make PHP more secure.
"After writing PHP forum software for three years now, I've come to the conclusion that it is basically impossible for normal programmers to write secure PHP code. It takes far too much effort. PHP needs a proper security architecture, and support for newbie programmers.
...
There are so many ways to break PHP that it is impossible for even experienced security professionals like me to code in it securely all the time. There are nearly 4000 function calls, and many of them have unintended consequences or have been inappropriately extended by something else. At every turn, the PHP Development Team have made truly terrible "security" choices: register_globals, magic_quotes_gpc (and friends), PHP wrappers, safe mode, output, XML, LDAP, and SQL interfaces that intermingle data and query elements, which by their very nature are impossible to protect against injection attacks. All of these are broken. They are disjunct and have no security model. Some of the features, like PHP wrappers, are not well documented, and are a clear and present danger to PHP scripts and worse, they do not obey the weak "safe" mode restrictions. I bet few PHP coders are aware of them, let alone their security impacts."
Chris Shiflett is collecting further comments. In an unrelated tidbit, Henry Fuecks writes some great PHP articles at Sitepoint.
djuggler's personal blog is Reality Me and consults as Superior Internet Designs.
I am in urgent need of a top level Excel and VBA guru to work on a project for one of my clients for a couple of months - starting immediately.
If you can locate to Brisbane and be available for about 2 months we are prepared to pay a good rate.
Please contact me urgently if you are the person we need!
Friday, February 17, 2006
News from Shavlik:

On February 14th, Microsoft announced the release of seven new security bulletins, two of which are rated as critical on the company's security rating scale.

Pay special attention to MS06-004, MS06-005 and MS06-006, which if exploited, could allow an attacker to take complete control of an affected system. The attacker can then download and install malicious or unwanted programs such as spyware onto the user's machine. Shavlik warns that many spyware installer sites use exploits in Windows Media Player or Internet Explorer to initiate the installation of spyware payloads. Shavlik recommends immediate patch testing and deployment for the bulletins that address vulnerabilities in Windows Media Player and Internet Explorer.

Below is more detailed information about these security bulletins:

MS06-004: Cumulative Security Update for Internet Explorer (910620)
Severity: Critical
http://www.microsoft.com/technet/security/bulletin/MS06-004.mspx
MS06-005
Vulnerability in Windows Media Player Could Allow Remote Code Execution (911565)
Severity: Critical
http://www.microsoft.com/technet/security/bulletin/MS06-005.mspx
MS06-006
Vulnerability in Windows Media Player Plug-in with Non-Microsoft Internet Browsers Could Allow Remote Code Execution (911564)
Severity: Important
http://www.microsoft.com/technet/security/bulletin/MS06-006.mspx
MS06-007
Vulnerability in TCP/IP Could Allow Denial of Service (913446)
Severity: Important
http://www.microsoft.com/technet/security/bulletin/MS06-007.mspx
MS06-008
Vulnerability in Web Client Service Could Allow Remote Code Execution (911927)
Severity: Important
http://www.microsoft.com/technet/security/bulletin/MS06-008.mspx
MS06-009
Vulnerability in the Korean Input Method Editor Could Allow Elevation of Privilege (901190)
Severity: Important
http://www.microsoft.com/technet/security/bulletin/MS06-009.mspx
MS06-010
Vulnerability in PowerPoint 2000 Could Allow Information Disclosure (889167)
Severity: Important
http://www.microsoft.com/technet/security/bulletin/MS06-010.mspx
MSRT-001: Malicious Software Removal Tool (February Update) http://www.microsoft.com/security/malwareremove/default.mspx

Additional information about these new security bulletins can be found on Microsoft's TechNet Web site at: http://www.microsoft.com/technet/security/bulletin/ms06-Feb.mspx. An ISO image of MS06-004 through MS06-009 patches can be found at the Microsoft Download Web site at http://tinyurl.com/cjwm2. Additional details on these bulletins can also be found at the Shavlik Web site: http://www.shavlik.com/support/bulletin_search.aspx

Shavlik recommends installation of these patches as soon as possible in order to ensure networks are secure. Deployment is simple with Shavlik NetChk(TM) Protect, our integrated patch and spyware management solution. Handle two of the most persistent network problems through one console! For more information about Shavlik NetChk Protect, or to watch a live demo, click http://www.shavlik.com/netchk-protect.html.

----

Visit Shavlik Technologies at the RSA Conference 2006, booth #423 to personally demo the latest in security software, including Shavlik NetChk(TM) Protect and Shavlik NetChk(TM) Compliance.

----

Shavlik NetChk Protect is the first integrated solution that automates the management of critical security patches and spyware from one easy-to-use console. For more information about how Shavlik NetChk Protect can help you secure your network, or to download a free version, please visit www.shavlik.com, call your Shavlik representative at (800) 690-6911 or +1 (612) 331-6737 (international), or email sales@shavlik.com .

----

Get Patched, Stay Secure and Never Miss a Beat.

The Shavlik Team
(800) 690-6911
info@shavlik.com

----

Stay up to date with patch management topics, subscribe to http://www.patchmanagement.org, or watch the discussion via our RSS feeds. For more information about available Shavlik RSS, please visit this site: http://www.shavlik.com/support/rss.aspx

We would also like to invite you to join our XML update notification service. Please sign up at http://www.shavlik.com/support/xmlsubscribe.aspx and be automatically notified when new critical patches or XML file updates are available.

Please visit Shavlik's new Forum to access our KnowledgeBase at http://forum.shavlik.com/.
Wednesday, February 15, 2006
Rohan is my techie and guru regarding web and sys admin. He builds and maintains my linux servers and also assists with website - especially MySQL Databases.
He finally has launched his own blog, the ramblings of Rohan
Check him out - and once he gets his comments working then say hi and that I sent ya.
Cheers - and well done Rohan.
Saturday, February 11, 2006
I needed to make an image of a client's hard drive today as I was having a deal of trouble copying it due to a lot of corrupted files.

I did a search for hard drive imaging software and came up with these options.
ISO CD Image Creator
Image for Windows 1.61
Ways to Copy the Contents of One Hard Disk Drive to Another
WinImage
Acronis TrueImage
DriveImage

I downloaded and isntalled the Acronis Software which worked perfectly - allowing me to skip the few corrupted files it couldn't handle.
I was then able to mount the image successfully and explore it.

If you use any of the others then how about telling me how they worked in the comments.
Wednesday, February 08, 2006
An awesome PC mod here.
This PC is built inside a 1.5litre whisky bottle

As the owner says:

I already had a powerful computer setup so I wanted something more quiet, small and low power consumptioning to function as a basic home server. I love to tinker with hardware etc. so I wanted to make something quite unique for a case. I have seen many nice and creative cases before but none of them were made out of a bottle. In November I bought an industrial 3.5" SBC board (with Socket370). For the project I selected a 1.5 litre Ballantine's bottle for case. That was the proper size and shape for the task at hand.
Tuesday, February 07, 2006
Here is a list of some of the free software I use on a regular basis - most every day or on every PC I build

I use Drupal to create many content management websites.

Picture editing - including bulk editing I use Irfanview

Picasa

Adobe Acrobat Reader

Trillian - messenger app that can run multiple msn, ICQ, yahoo and aim profiles simultaneously

Steve Gibson's utilities from GRC - run these to make your pc more secure
Un Plug and Play
Shoot the Messenger
Dcombobulator

Prefetch clean and control from majorgeeks - use this to rest the prefetch parameters and avoid Trojan virus using it

VNC - remote desktop management (way better than windows one)

Zone Alarm - firewall

Core FTP

Daemon Tools - Virtual CD Drive software

Skype - Free VOIP app

Adaware - malware remover and cleaner

Of course Firefox!

Setbrowser - forces your system settings to recognise the browser you want to use as your default - internet explorer is reluctant to let go of a lot of file associations
The lingerie bowl is a sideline at the superbowl.
Here's some of the action!


Photo: AP/Hans Gutknecht