Thursday, October 27, 2005
Today I am introducing Ventrilo, a VOIP application that works on a LAN and also through the internet. Ventrilo 2.3.0 is the next evolutionary step of Voice over IP (VoIP) group communications software. Ventrilo is also the industry standard by which all others measure them selves as they attempt to imitate it's features.

Setup and connection is fairly simple, simply download an exe (executable) file for the server and then another for the client on each machine that needs to connect. Supported platforms are Windows, Linux, FreeBSD, Solaris SPARC and x86, NetBSD and MacOSX. The server can run on the same machine as a client.

We downloaded the small (500mb) files quickly and installed equally quickly and were testing within a few minutes. The options are detailed, but can be ignored as you can go straight in and start using it.

This will be given a full workout on the weekend at my next LAN.

Quakecon use Ventrilo as their VOIP tool of choice for their 3200+PC gaming LAN.
Chip Byte (the security gumshoe) and Elisa Pascal (gumshoette) star in this fictional tale containing elements of network security compromise, device and media security leaks and identity theft. Written with the point of educating users and security people to the real dangers of slacking off on security issues.

Don't presume it can't happen to you because it can.
Tuesday, October 25, 2005
Bea bought Plumtree. (press release)
"Plumtree is a leader in the market for collaborative portals that enhance enterprise connectivity and productivity. BEA is a leader in high-volume, transactional portals for customer and partner interaction as well as internal operations. Today, BEA provides the most complete portal portfolio that spans J2EE and .Net, providing a balanced perspective or view within the enterprise on both the people and operational side of the business."
Monday, October 24, 2005
The other day I received some files that I had never come across before. They were ebooks in a .PDB format. Now .LIT I had often used as I have a Microsoft Reader and had used it on my PDA back when they were cool when I had one. But .PDB files were new to me. Adobe Acrobat wouldn't read it and neither would Microsoft Reader.
After a LOT of googling I finally found two applications that were free and read them. By the way a .PDB file is a Palm Database file. Here is an excellent explanation of how the Palm OS uses files.

The two applications are yBook from SpaceJock and µBook from Gower Point
Thursday, October 20, 2005
Robin Good from Kolabora.com has written an extensive (as always) article about a new open source, cross platfrom online conference system.
Written in Java it works inside your browser on HTTPS with no popups, and allows realtime text, voice, and powerpoint. Power point slides are comverted to JPG and GIF format though animations are not converted. Additionally full recording of sessions is allowed.
Robin has a lot more details including technical ones, a 37 min recording of his discussion with John the creator of this free application in his article.
Host a session on WebHuddle's servers directly (you need to request an account) or download it from source forge and host it yourself.
Wednesday, October 19, 2005
Top 100 oldest dot com domain name
Friday, October 14, 2005
Picasa has been updated to version 2.1.

Picasa is a free software download from Google.
Picasa is software that helps you instantly find, edit and share all the pictures on your PC. Every time you open Picasa, it automatically locates all your pictures (even ones you forgot you had) and sorts them into visual albums organised by date with folder names you will recognize. You can drag and drop to arrange your albums and make labels to create new groups. Picasa makes sure your pictures are always organised.

Picasa also makes advanced editing simple by putting one-click fixes and powerful effects at your fingertips. And Picasa makes it a snap to share your pictures – you can email, print photos home, make gift CDs, instantly share via Hello™, and even post pictures on your own blog.
If you already have Picasa installed the update process is very simple. Simply open Picasa and a dialog box will pop up asking if you want to update. Choose Yes and it will download the update. Once it is downloaded close and re-open Picasa twice. This first time it will update it and the second time it will be all working fine.
Some of the new features and enhancements inclde:
BlogThis! - The new "BlogThis!" button allows you to post one photo at a time directly to the Blogger.com web editor without going through the Hello software.

Print CD covers - Print perfectly sized photo CD covers at home. Click the "Print" button. Go to Tools > Options > Printing. Select "CD Label Size" and apply, and "CD label" will now appear as one of your print layout choices.

Improved RAW file handling - Since many of you use professional-quality cameras, we've added support for more makes and RAW file types: Canon (.CRW, .CR2), Nikon (.NEF), Olympus (.ORF), Pentax (.PEF), Kodak (.DCR), Sony (.SRF), Minolta (.MRW), and Fuji (.RAF).

Import from additional cameras - Picasa's "Import" button takes photos off these cameras: Canon EOS Digital Rebel XT, aka the 350D(.CR2); Pentax *istDS(.PEF); and Konica/Minolta Maxxum7D, aka the Dynax 7D(.MRW).
For all the update details look on the
Picasa Website
Thursday, October 13, 2005
Microsoft has a nice shiny promotional website for Windows Vista
There are some pretty interesting differences to XP. Most of these are along the lines of improving security, operate-ability, connectivity and recovery from crashes. Which means it will still crash!
However if Vista has the same quantum leap from XP as XP had from 98 then it should be really good!
Head over to the website and have a look.

[Most overused word has to be "streamlined"]
Saturday, October 08, 2005
Windows XP 64 bit and dual core processors
I am trying to decide whether or not to build my next pc with a dual core chip, and whether or not to install Windows XP 64bit.
I am currently looking at either the AMD Athlon 64 X2 64Bit 4800+ chip or the Intel Pentium D EE 840 3.2Ghx Chip. The other alternative is the single core AMD Athlon 64 FX57 Chip.

This article by the Australian Overclockers
suggests that after all their testing the AMD 4800+ chip performs better then the P4 D EE 840 at the things I need. Multitasking apps and background processing of tasks while playing CPU intensive games such as Far Cry and Battlefield 2.
I currently have around 30 browser tabs open in Firefox, One Note, Outlook and Sauce Reader (my RSS reader) open, Winamp streaming internet radio, Trillian running my MSN, ICQ and Yahoo Messenger clients. Usually I would have several of these applications open at once also; Word, Excel, Publisher, Dreamweaver, Cute FTP, Photoshop, Irfanview and Internet Explorer - for testing web sites.
So I am a top end power user. I am currently running a P4 3.2Ghz chip on an Asus P4P C board with 2 GB Geil Golden Dragon Ram and a FX 5900 Ultra Video card powering two 19" Viewsonic CRTs.
Intel are trying hard to convince me with
their spiel
and
AMD have a similar one
.
So far my main concern is not the hardware. It would seem that all is working fine there.
The Pentium D 840 Extreme Edition would pair nicely with the Intel S775 D955XBKLKR Motherboard and the A64 X2 4800+ would run very sweetly in the ASUS S939 A8N SLI Motherboard. I already have one of these running a 3200+ chip as a Linux server.
No I am more worried about two other things. First the almost total lack of driver support for hardware for XP 64bit. Second the worrying lack of support.
This article by Hardware Analysis
sums up these two problems nicely.
Paul Thurrott who attended a technical preview run by Microsoft
makes some disconcerting statements
.
Quoting Brian Marr, Microsoft's XP 64 bit Product Manager he says this:
"There is no upgrade path from Windows XP Pro to Windows XP 64-bit Edition, for example."
There is some good news:
"Realizing that applications compatibility was going to be a key goal for its customers, Microsoft made the 64-bit versions of Windows compatible with existing 32-bit applications through a new Windows On Windows 64-bit (WOW64) compatibility layer. "So we're compatible with 32-bit apps out of the box, and it runs (sic) most Win32 apps, though 16-bit installers won't work for the most part.
Rob Enderle
writing for TechNewsWorld
states:
"More of a precursor to Longhorn so that vendors will write the necessary 64-bit drivers, it is available on new hardware and not as an upgrade. It really isn't designed for the home market and the likely targets are those doing specialized research, multi-media authoring, CAD, and complex financial analysis. Mainstream it isn't, but if you need the power of a 64-bit platform and particularly if you like AMD hardware, this is your OS. The majority of us aren't there yet."
Tom's Hardware Guide has a comprehensive review
(as always).
"As more data can be processed per clock cycle, there can be substantial performance benefits with 64 bit applications under Windows XP."
After all their testing of the Athlon X2 4800+ dual core and the Athlon 64 FX57 single core both with XP Pro and XP 64 here are the conclusions that THG gained:
# The 64 bit version of Windows looks and feels pretty much like the popular 32 bit versions.
# Windows XP Professional x64 Edition provides performance comparable to Windows XP 32 bit when running 32 bit applications.
Some programs run slightly faster, others slightly slower. At the end of the day, the difference is not noticeable.
# The perceived differences between the 32 bit and 64 bit versions are the same whether you run a single or a dual core processor.

"Given that there is no difference in performance when running 32 bit applications, it does not make sense to upgrade to Windows XP Professional x64 Edition when running them; you might be upgrading just for the sake of being an early adopter. The general conclusion here is that Microsoft's WOW64 (Windows on Windows 64) translation layer works well and allows the execution of 32 bit software in Windows X64 without any noticeable difference. This reminds us of the transition from Windows for Workgroups 3.11 to Windows 95: as long as enough RAM was installed, performance was not an issue."
I am still not convinced either way.
I think I will go for the 4800+ Dual core and install Virtual PC and see how both the 64 bit and 32 bit versions go on the same machine. That way when the promised 64 bit applications come out I will be hardware enabled for them.
What do you think. Do you have any further information or advice to add? Please comment if you do.
Friday, October 07, 2005
Bluetooth GPS Receiver
Google Adsense Electronic Funds Transfer Available to Everyone
Google's Adense EFT is now out of beta testing. Anyone using Adsense can now have their payments directly deposited into their bank accounts instead of waiting for a check to arrive. Of course, anyone that blogs using Blogger can have adsense added to their blog with the click of a button.
Thursday, October 06, 2005
Graphics tools and resources websites
TomaWeb
- Free button generator
The Plugin Site
- This site has plugins...duh
PhotoshopSupport.com
- Tutorials for photoshop
AutoFX Software
- Expensive cool stuff
Free Photoshop
- Reviews, downloads, free stuff
Font Magic
- Create 3D text. Free application
Tuesday, October 04, 2005
Can you fly a paper airplane?
Here's the
website
to try and do your best. Go for distance, go for height or try the aerobatic versions.
Monday, October 03, 2005
Virtual Blue Tooth Keyboards
These are amazing
Create your own virtual keyboard by utilising the power of lasers and optical recognition software. The keyboard can be projected onto any flat surface and recognise your "touching the keys" and transmits via bluetooth to your PDA or PC.
Link to purchase one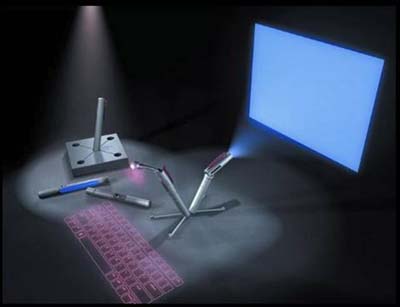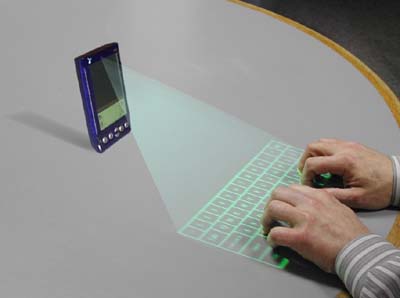 Saturday, October 01, 2005
FireFly - Mobile Phone for Kids
This mobile phone for kids is expense (at $.25 per minute) but a great idea! With only 5 keys and programmable by adults the phone only lets calls in that are in its address book (holds 30 numbers) and has a quick call key for mom and dad.