Sunday, July 31, 2005
Today I have embarked on installing the service pack 1 for my SBS (Small Business Server) server. I guess that is like an ATM machine!
Anyway...
This information is as much for me to remember later if I need it as it is for you if you just surfed in here on a search for SBS 2003 service pack 1 installation advice and help.
First up I have to say I am not really the one to provide the help, I am just passing on what I have learnt in the process of actually installing it - a definitive user guide for myself and possibly for others.
Specs.
I am running SBS2003 Premium edition on a Celeron 2.67Ghx with 512 Mb RAM and two 200Gb S-ATA in a raid mirror. 10Gb partitioned C drive for OS install. Remaining 180Gb available for data, user directories, exchange and sql databases and client apps. So far the only non standard thing I have done is to turn of the crap backup system. (I do backup though!) I also had Outlook 2003 installed (as a client) on the server but this was removed before the patch was installed - see below for why.
First thing I did before even thinking about whacking the CD in the drive was to start looking to see what needed to be done. The best advice I got was in the form of a
written guide on the smallbizserver.net website
and more information on
Susan Bradley's SBS Diva site
. I also chatted with Susan at length about the user guide, and the steps involved, things to be wary of etc. (Susan is availble on MSN and loves to help SBS'ers. Email her (from
her site
) to be added to her MSN). Additionally I perused the Microsoft release notes. This reading paid off as there were several things I needed to be sure of before starting.
What you need
2Gb free on the server partition (This is why I uninstalled Outlook - additionally it is not a supported part of SBS2003 OS (it is a client app))
Small Business Server Service Patch 1 CDs 1-2 for standard edition and also CD 3 for premium
A printed copy of the user guide notes - I got mine onto 31 pages
2 hours free time to install and another 30 minutes at least for reading
A FULL backup of the server - mine was 79Gb and took 2.5 hours to backup to a USB hard drive
Check the following things:
Go to Start | Server Admin | Services and then check that there are no services running logged in as [weird name]. If you are not sure check with an MVP


Disconnect any UPS and run from mains supply - this also allows you to check that the server will reboot cleanly with no errors also before installing the patch


Disable any antivirus apps. I have none on this server as it is not live to the web and does not download any email


Ensure you are logged in as the build administrator, not any other user with admin rights, and check that all the admin rights are applied correctly - check the user guide page 2 for this


What you don't need
A massage while relaxing in front of the server while it smoothly installs (NOT)
Any of the following cds:
Exchange Server 2003 SP1 (It is included on CD1)


Windows Server 2003 SP1 (It is included on CD1)


ISA Server 2004 SP1 (It is included on CD 3


SQL Server 2000 SP4 (It is included on CD3)


Now we get started
Note if you have the
user guide
printed then you will have every screen shot in front of you - most useful!
CD 1 in the drive for the install of Windows Server 2003 SP1
Reboot
CD 1 in the drive for the install of Windows Sharepoint Services 2.0 SP1 - it was already installed so not needed (as per user guide)
CD 2 in the drive for the install of Windows XP SP2 for Client Deployment
No Reboot
CD 1 back in the drive for the install of Exchange Server 2003 SP1
No Reboot
CD 2 in the drive for the install of Small Business Server 2003 SP1
Reboot
CD 3 in the drive for the install of the Microsoft Internet Security and Acceleration Server (ISA) 2004 SP1
Reboot
CD 3 in the drive for the install of the SQL Server 2000 SP4
This was not needed as I do not have SQL server 2000 installed
Success! Completed!
Final tasks
The user guide suggested downloading and installing the MBSA V1.21. This has since been replaced by
MBSA V2
I downloaded and installed, scanned my domain and then downloaded and installed a security patch for Exchange 2003 SP1 and one missing patch on one of my PCs.
Test emails done and all seems to be working correctly.
Now I am going to go and wacth the MOTO GP!
Saturday, July 30, 2005
Keypad.org has successfully used bunnies to assist him and in the name of science give their all as he succeeds in recording his experiments. Some would call this cruel, most just look away and pretend it doesn't happen.
Judge for yourself
.
Internet companies have taken to the skies in a battle for aerial supremacy.

On Monday, Microsoft introduced a preliminary online feature that combines street maps with photographs taken from airplanes and satellites. The product, MSN Virtual Earth, is intended to give users more detailed driving directions and an easier way to search for local businesses.

The release follows Google's recent foray into aerial imagery, including last month's preliminary introduction of a free three-dimensional mapping service, Google Earth. After downloading some software, users can zoom over cities and mountains like a bird.

Google and Microsoft are engaged in a major battle over Internet users. Each has unveiled a series of features designed to keep users loyal and grab a bigger share of the lucrative search-engine market.

Aerial mapping isn't new to the Internet. TerraServer, a Microsoft-owned site, has been available for years, and so has another Web site, TerraFly.

The point of aerial images on the Internet -- in addition to the utility for users -- is the potential for local advertising. For example, a user who types in a search for cars while looking at a view of the Bay Area gets a sponsored link for a car rental company below Yellow Pages listings for different automotive related businesses.
Excerpts taken from an
Entireweb
newsletter.
Friday, July 29, 2005
I actually found
this website
on the 2nd April 1994 and saved it. I still have the orginal saved file on my server!
It is an hilariously well documented scientific experiment into the flammable properties of Strawberry Pop Tarts and at the same time an example of how the silly things you did on the web in 1994 can still be there in 2005.
The comments linked at the bottom of the page are as funny as the rest.
Thursday, July 28, 2005
An awesome site for all things geek!
Gzip
gzip
(GNU zip) is a compression utility designed to be a replacement for
compress
. Its main advantages over
compress
are much better compression and freedom from patented algorithms. It has been adopted by the
GNU project
and is now relatively popular on the Internet.
gzip
was written by
Jean-loup Gailly
(jloup@gzip.org),
and
Mark Adler
for the decompression code.
gzip
produces files with a .gz extension. gunzip can decompress files created by
gzip
,
compress
or
pack
. The detection of the input format is automatic.
Google Sitemaps
need to be placed in the root directory of a website in a gz format.
Seagate have announced that nearly all of the hard disk drives made by Seagate will feature perpendicular recording technology by the end of 2006.
Perpendicular recording works by standing the magnetic fields that represent data bits upright instead of being flat, resulting in a much more compact data that promises to boost the capacity of drives.
Seagate will focus first on its 2.5' and 1" drives and then on the 3.5"
desktop drives.
Toshiba, Hitachi and Fujitsu have all stated that they will also be moving towards the technolgy, but Seagate appears to be determined to be the first to market with the mass consumer drives. A 160GB 2.5" drive will be the first offering by Seagate next year while Fujitsu having already stated that a 200GB 2.5" drive will be available in 2007.
Read The Register's article
.
Wednesday, July 27, 2005
Google
, the Internet′s most popular search engine, has launched
Google Sitemaps (Beta)
. This is a new inclusion service designed for webmasters and website owners. Google Sitemaps enables you to proactively and automatically submit information about your website to Google to notify and direct their crawlers.
It is meant to create a more accurate index and deliver better search results of your website. To participate in Google Sitemaps service you need to place a XML formatted file on your webserver. This file contains a list of all URLs (sitemap) of your website along with other information such as when content has been modified, the update frequency and the priority of a particular page.
VIGOS Gsitemap is a 100% FREE, easy-to-use but versatile Windows sitemap generator tool to help webmasters and website owners to create, edit and submit sitemap information in adherence to the Google Sitemaps protocol.
Download VIGOS Gsitemap
for free and start optimizing your website by improving its coverage and freshness in the Google search index!
Tuesday, July 26, 2005
Recently I bought a
Panasonic DMR-E75V DVD/VHD Recorder Combo
.
The main features include:
One-touch 2-way Transfer (DVD <-> VHS)
2 Program Parallel Recording with Twin Tuners
16-hour Recording onto DVD-RAM (9.4GB Double Sided Disc, EP mode
Timslip viewing and simultaneous view and record separate channels
I have already copied a number of old videos to DVD. The kids are enjoying watching things they haven't seen for a couple of years since our old VHS player packed it in.
It was a little complicated to set up, and involved some bemused head shaking while dangling multiple cables behind the big TV.
I actually rang the (very helpful) Panasonic customer service centre (not in defeat) to check that I had it right and after explaining my setup the chap said that I had done it the best possible way.
Vistra Systems have a great looking appliance called a
HiFidelio
.
Find Ripping your CD collection hard work & time consuming? No longer… thanks to hifidelio. Just put the CD in. The tracks are read and saved automatically. hifidelio's "inner intelligence" even registers track title, artist and album. Over 2 million music titles can be stored on the internal database. hifidelio also let's you record your LPs and cassettes and even synchronise with your MP3 players. All your music on one single device… a device that can store up to 20,000 songs (depending on format). Brilliant!
The Hifidelio comes with an impressive list of hardware:
# Combo CD/DVD Drive
# CD recorder for audio CDs
# Hard disk for up to 20,000 tracks (80 GB - hifidelio)
# Hard disk for up to 40,000 tracks (160GB - hifidelio Pro)
# High resolution, backlit display (hifidelio)
# High resolution, gray scale display (hifidelio Pro)
# Analogue stereo input (record from turntable, tape deck, etc)
# Headphone jack
# Two USB 1.1/2.0 ports
# 4 port, 10/100 auto-sense Ethernet switch
# 54 Mbit/s WLAN access point 802.11g
# Incredibly simple user interface
# Internal CD database for album titles, tracks and artists
# Access to Internet CD databases
# Fully compatible with iTunes on Windows and Mac
# UPnP AV, Rendezvous networking protocols
# Support for additional devices including backup hard disk, iPod, MP3 player, keyboards, etc).
The Music formats handled are:
# MP3 and MP3 VBR (Variable Bit Rate)
# Additional encoding rates (hifidelio Pro)
# Multi-room streaming **
# AAC (MPEG4) recording and playback
# OGG/Vorbis playback
# WMA playback
# FLAC (Free Lossless Audio Codec) playback
# RAW data formats (uncompressed): AIFF, WAV
# CD Audio
# CD-R
# CD-RW
# DVD
# Internet Radio - select from thousands of Internet radio stations (hifidelio Pro)
# DVC (Dynamic Volume Compression) (hifidelio Pro)
And this is all connected to your audio system with these connectors:
# Analogue Stereo Input
# Analogue Stereo Output
# SPDIF optical & coaxial Output
The Hifidelio looks like a great addition to any entertainment system.
Friday, July 22, 2005
Gigabye has produced a RAMDISK PCI card that can be added to your system.

The card is a regular 32-bit PCI card that features four standard DIMM slots on board. The card also features a custom Gigabyte FPGA that is programmed to act as a SATA to DDR translator, which convinces the SATA controller you connect the card to that the memory you have on that card is no different than a regular SATA HDD.

Given that the card offers no real backup other than the battery it's not really suitable for extremely sensitive data, but it works well if your system is on all the time. Obviously the biggest benefit of using DDR memory as storage is that all accesses occur in nanoseconds, not milliseconds and is thus much faster at random accesses than regular hard drives. Transfer rates are also improved, but you're limited by the bandwidth of the SATA interface so DDR200 memory is the fastest that is supported.

Link courtesy or HERMITech
This will be an awesome keyboard.
Thanks to Geektronica for the link.

Each key is a tiny screen (like the screen on the outside of a flip phone), and can display anything, depending on your settings. It's also macro-able, so it's the ultimate for games, since you can apply new keysets for each application you're using. It's also perfect for non-English languages that use other characters, like Russian. There's even a keyset for Quake.
Wednesday, July 20, 2005
Google Maps commemorates the lunar landing.
Tuesday, July 19, 2005
Tony writes a lengthy article explaining the different models available on the Australian market, compares features and benefits of each one and also explains what the switch, router, wireless access point, firewall, USB connections and modem components of each model do.
This is a good reference article if you are assisting clients or friends to set up a broadband conection or wireless network.
Friday, July 15, 2005
Here is a neat form to signup once and get a google account for everything google offers.
The initial services available with your Google account are:
In the future, your Google account will provide access to all Google programs requiring sign in including: Google AdWords, Google Store and more.
Your eyes do not deceive you. That is GMail without the need for an invitation! So what am I going to do with these 50 invitations I still have on my gmail account?
Thursday, July 14, 2005
Google Maps now includes Japan
TOKYO -(Dow Jones)- Google Inc. (GOOG) (GOOG) said Thursday it has added two free mapping services on its Japanese-language Web site giving business information, maps and satellite images of areas searched by users, Kyodo News reported.
Microsoft released a new Junk Mail Filter.
If you use Outlook 2003 then replacing your existing filter should reduce the junk mail you recive in your inbox.
Wednesday, July 13, 2005
I just bought Battlefield 2 to play at the LANs.
Before I bought it I checked whether my computer could play it. I had heard something about it not supporting nVidia graphics cards. Turns out that was partly true. The Geforce 4 range (and earlier) isn't supported. That is OK for ne. The only machine I have with a Geforce 4 card in it couldn't handle the game anyway.
Popular Technology.net has a good write up about it.
I agree that EA games should have included support for the Geforce 4 cards, but at the end of the day I believe it was nVidia's fault for not supporting Pixel Shader 1.4
Tuesday, July 12, 2005
Windows XP Service Pack 2 introduces several important security enhancements that are designed to protect you from malicious sites, viruses, email worms and more. As part of these features, it introduces an enhanced download control for Internet Explorer, that is designed to protect novice users from automatic download prompts. We at Snapfiles have always used an automatic download prompt for our download pages, which causes the download dialog to appear without the need for an additional click. This feature is directly affected by the SP2, and instead of the download prompt, you will see a notice in the new IE information bar, which requires you to click before the download will start.




You can either accept this small inconvenience and click the Information bar every time to start a download, or you can disable this feature in Internet Explorer.

You can disable this new feature.
There are 2 ways to turn this behavior off. If you only occasionally download software or are a novice user, I recommend to leave this feature ON, as it can prevent malicious web sites from popping up download prompts (that you've never asked for), and prevents accepting of downloads by accident.

Option 1:
Enable automatic download prompts in Internet Explorer (Disabled by default).

This will turn off this feature completely and file downloads will occur the same way as they always did. Go to Internet Explorer -> Tools --> Internet Settings. Please see the screenshots below for instructions.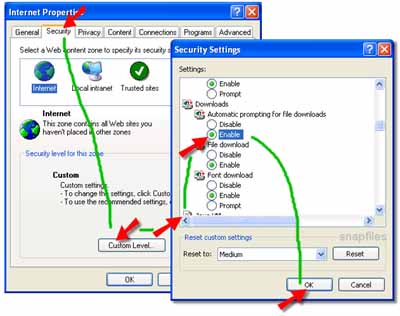 Option 2:
Add download sites you trust to your list of trusted sites. This will override security settings for the specified sites only. It will also impact other security settings, not only download behavior.


FutureMark have their 3DMark05 version available for download on the website.
You can use the free version to test your PC's capabilities against their benchmark tests and get the results in either xml or html format.
Wednesday, July 06, 2005
Check out this hilarious spoof of Star Wars with a serious message.
Check out htis hilarious spoof of star Wars with a serious message.