Thursday, June 30, 2005
If you use one of the following you need to read this.
Vulnerable applications include, but are not limited to:

- Serendipity Weblog (serendipity_xmlrpc.php)
- Drupal (xmlrpc.php)
- TikiWiki (xmlrpc.php)
- phpMyFAQ (xmlrpcs.php)
- et al.
Wednesday, June 29, 2005
I just found a great site - thanks to Susan the SBS Diva.
It is smallbizserver.net.
They have help topics, a forum, frequently asked questions and more.
Today I downloaded and installed the updates for .Net Framework SP1, SQL SP4 and SBS SP1. It seems Shavlik patch management won't install these silently though it will recognise them.
Likewise you will need to go to Microsoft.com to get the PC version also.
Monday, June 27, 2005
From John Battelle's Searchblog:
Monday Google will launch an in-browser video playback feature based on the open source VLC media player. This is the logical next step for Google's video search and upload function, which began taking uploads from anyone who cared to submit back in April.

Google will not disclose the raw numbers of videos that have been uploaded to date, but the company will make all those which were tagged as "free" available for real time streaming through the VLC player, which Google has modified and will make available for download Monday morning. The company also intends to make its VLC code available to the open source community as part of their Google code project.
See
John Battelle's post
for relevant links.
Food for thought. Google has announced a paid service. John Battelle eludes to how Google's paid service could become a distribution medium for independent content creators with the DRM issues of cable companies and film studios.
The 'stem cell wars' look set to 'hot up' again, as South Korean researchers announce that they have already cloned several human embryos from adult cells. This means that stem cell lines harvested from these embryos (destined to be killed) are 'tailor-made' for the patient who donated the cells from which they were cloned. Thus, if such an embryo is cloned from one of your cells, the stem cells produced from that embryo will not be rejected by your body and can thus be used to generate replacements for damaged or diseased tissues or organs.

Obviously, there is going to be a huge temptation, especially in an increasingly evolutionized world, for even Christians to bypass the clear statements of Scripture in the name of 'healing', and we are seeing this happen already. Dr Carl Wieland's article reports on this Korean 'breakthrough' and its implications in a just-released article.
Wednesday, June 22, 2005
The quickest way to add a network printer to your printers is to locate it in your network places and double click it.
You will need to know the local domain name and server name, or if on a peer to peer network the work group and the pc name of the pc that the printer is attached to.

Open My Computer (Windows Key + E), Open My Network Places by clicking the plus, then Entire Network, then Microsoft Windows Network. Now locate the Domain or Workgroup and open it, then find the server or PC name and open it. After all the shared drives will be a folder called Printers. Click on this and in the right hand side you will be able to see all the shared printers.
Simply double click any printer you want to add.
This method is a heck of a lot faster than using the wizard to add a printer and then browsing the network.
Tuesday, June 21, 2005
The Planetary Society will launch a solar powered space craft today 21st June 2005.
The Cosmos 1 will carry into Earth orbit a CD containing the names of over 75,000 members of The Planetary Society and the Japan Planetary Society, along with the works of early visionaries who inspired solar sailing.
Once its sails unfurl, Cosmos 1 will be bright enough to be easily visible to the naked eye.

As Cosmos 1, the first solar sail spacecraft, orbits our planet, it will be visible from nearly everywhere on its surface at one time or another—so everyone on Earth can participate in our mission!
After launch all the information needed to view the spacecraft will be
available on their website.
Saturday, June 18, 2005
16/8/05 updated this to remove identifying references to actual names or emails.

Rohan writes:
Mate to be honest I think this is a legit email a few things show that.

#1 : the received From line highlighted in red shows it originated from a mail server puntd2.cc.uga.edu the account name on that was mirapoint
#2: The fact that there is a CC line highlighted in green.
#3: The X-Priority details(in pink) show that it was sent by a mime server and could be questionable but the message ID - shown in black shows it came from the right mail server

Email header
Return-path: &lt ____@uga.edu>
Envelope-to: tim@jethroconsultants.com
Delivery-date: Fri, 17 Jun 2005 04:51:24 +1000
Received: from [128.192.1.121] (helo=puntd2.cc.uga.edu ident=mirapoint)
by apollo.unknowndns.net with esmtp (Exim 4.50)
id 1DizSW-0006XF-9f
for tim@jethroconsultants.com; Fri, 17 Jun 2005 04:51:24 +1000
Received: from maggiecube (43.cpe.atlantabroadband.com [64.30.174.43] (may be forged))
by puntd2.cc.uga.edu (MOS 3.5.9-GR)
with SMTP id BKK61695 (AUTH via LOGINBEFORESMTP);
Thu, 16 Jun 2005 14:51:18 -0400 (EDT)
From: "S___ T____" &lt ____@uga.edu>
To: &lt tim@jethroconsultants.com>
Cc: &lt _____@gmail.com>
Subject: Jethro consultants
Date: Thu, 16 Jun 2005 14:51:09 -0400
Message-ID: &lt KOEFIGDLODJGFCHEKCLOAEFJCNAA.____@uga.edu>
MIME-Version: 1.0
Content-Type: multipart/related;
boundary="----=_NextPart_000_0015_01C57282.D53EBA20"
X-Priority: 3 (Normal)
X-MSMail-Priority: Normal
X-Mailer: Microsoft Outlook IMO, Build 9.0.6604 (9.0.2911.0)
X-MimeOLE: Produced By Microsoft MimeOLE V6.00.2900.2180
Importance: Normal
Friday, June 17, 2005
I get spoof emails purporting to be from PayPal sometimes. How do I know, easy. Look at the links in the email (hold your mouse over them) and see if they point to www.paypal.com. if they dont like this one www.notpaypal.com which points to this site.

Today however I got a different sort of spoof email.
Here it is.

Tim:

Sorry this isn't business related but I was curious if your business had t-shirts, i.e. ones that saw Jethro Consulting with the phrase "Jethro is Excellence" on them. Thanks for whatever information you can provide.

_name removed for privacy_
The email address was ____@uga.edu.
Well the first thing I did was check out the
uga.edu
site to find that it is the University of Georgia site. So next I did a search on the name ____ to find that while there are a bunch of ____ and ____ that there is no email address listed exactly ____@uga.edu. This doesn't mean that it doesn't exist but its getting pretty likely.
Do you know how to prove an email address is false - wihout actually replying to it?
Maybe it is not a spoof. I might just have to reply.
Picasa has a bunch of exciting things that can be done with it that aren't obvious to the casual glance. Here's the low down from Picasa on backing up your photos.

Are your photos backed up?
No? Well, you're not alone; 3 out of 4 of us use our computer's hard drive as our primary method for storing photos, and many of us have never saved backup copies to another storage location like a CD, DVD or external drive. But why let one blue screen of death erase your most precious memories when Picasa makes the backup process a snap? Picasa remembers which photos in your library you've backed up, and which (yikes!) you haven't; preserves any edits or changes you've made to your photos with Picasa; and even lets you undo any backed up changes later on.
So.
The project: Create a backup set of photos using Picasa. It takes only minutes.

You'll need: A blank CD or DVD (the kind you use in your computer, not the TV) or an external drive; a computer with a CD/DVD writeable drive.

1. Open Picasa (make sure you are using version 2; if not, download it now from www.picasa.com). In the menu at the top of your screen, go to Tools > Backup Pictures, or click the "Backup" button at the top of your screen. This will open a box containing backup instructions in the lower third of your screen.

2. Under Step 1, click the "New Set" button to name your backup set (a set is all the pictures you want saved). A "New Backup Set" box opens.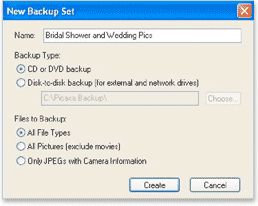 3. Type in the name for your backup in 16 characters or less.

4.Select a backup type, either "CD or DVD backup" or a "Disk-to-disk backup (for external and network drives)."

5.Select the files to back up, either all file types, all pictures excluding movies, or only JPGs with camera information (information like camera make and model and if a flash was used).

6.Click the "Create" button. This will close the "New Backup Set" box and return to the backup instructions.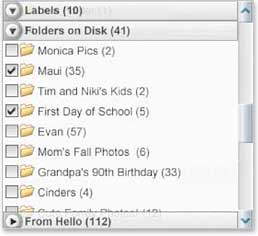 7. Look at the list of folders and labels along the left side of your screen. A checkbox has appeared to the left of each name. The folder that's currently active has an "X" in the checkbox; you'll be backing up these photos.

8. To add more photos to this backup set, put an "X" next to every folder and label that you want archived. You can do this one at a time or, under Step 2, click the "Select All Pictures" button to have Picasa add an "X" next to all the photos in your collection.

9. As you select more photos, look at the message appearing on the blue bar across the lower third of your screen. This tells you how much space your backup will require, including the number of CDs you'll need.

10. Are all your photos selected? Make sure you have a CD or DVD in your writeable drive, or that the external drive you're saving to is connected. Now click the "Burn" button. If you chose "CD or DVD backup," Picasa will prompt you when you need to insert an additional disk to your drive.

11. Relax! You're now far less likely to ever lose any of those irreplaceable pics.
Wednesday, June 15, 2005
I bought a couple of new games yesterday. Both were Ubisoft titles, "Morrowind , The Elder Scrolls" and "Brothers in Arms Road to Hill 30". It is an awesome game. It is a very well constructed game both visually and in terms of gameplay. It is not just a first person shooter as it also includes some great tactical stuff. I have played about an estimated 3rd of the single player missions. I will try the multiplayer later - I haven't tried it yet, but will post a review of that when I get to it.
In the meantime I am going to continue to enjoy the single player game.
I had one problem installing it. I couldn't initially at all. My DVD writer drive seemed to not be able to see the DVD ROM disc, and then when it did recognise it, it refused to run the setup file. So I stuck it in my server DVD drive and shared the drive and installed it over the network. That worked fine. I need the disc in to play but that seems to work OK. It appears just to have been a glitch with installation.
Tuesday, June 14, 2005
Christian Cantrell points out "MSN Plays the Beta Game." Google Labs has long given us sneak peeks of great tools to come like Froogle, Google Web Alerts, and Google Maps. Yahoo later joined the "look at what we are doing" game with Yahoo Research Labs and now Microsoft joins the trend with MSN Sandbox.
Tonight I set up a wireless access point. It took about 1/2 an hour with Rohan's assistance on the phone. There were a couple of fiddly little things that maybe useful information.
The unit was a D-Link DI-624+ Wireless Router. This has a WAN port, 4 LAN ports and wireless 802.11G protocol.

I have a HP nx6120 laptop that I used to configure and test this with as it has a wireless adapter built in.

The main difficulty I had was changing the IP address and this was due to the fact that I already have DHCP running on my network, in my Linux server. To do this I had to connect via a cable to the laptop directly. I then connected a browser to 192.168.0.1 which opens the admin page. The user name is admin and there is no password in the factory default. I of course changed this. Then I turned on the wireless network, set WAN to dynamic as I was not using the WAN fucntion, disabled DHCP and then set the LAN to the IP address I wanted on my network..
I rebooted the router at each change application and when finished I needed to reboot the laptop. Why? If you have a Centrino chip in a laptop with wireless, then if you want to change the wireless settings on a wireless router or access point then you will need to reboot the laptop to rediscover the network. Once I booted up lo and behold I discovered a network. It was unsecure. So I did it all again and in the wirelss settings page I set the network to WEP, 128 bit encryption with an ASCII 13 digit access code.
This is pretty secure!
To make it even more secure, after I located it in the center of my house (connected to my network by cable) I turned it off. Of course that means it won't work, but I only need it if I want to work in the media room while watching sport on telly, or for when I buy a D-Link DSM-320 media streamer...

The router works fast - blisteringly so. I downloaded the 5Mb manual for the thing at 120kbps. The setup is easy to understand and intuituve, with the really advanced stuff hidden on separate pages. There was a wizard which didn't work for me, but would probably work pretty well for someone setting this up as their main internet router and LAN switch.

All in all probably one of the easiest to set up routers I have come across.
Sunday, June 12, 2005
For those of you that like to make modifications to your pc case, check out Sunbeamtech.

(link discovered in this description of how to turn an Apple G4 into a PC which was brought to us courtesy of James at Puerilis)
Boing Boing brings us Yoda origami
Saturday, June 11, 2005
This is an absolute must watch.
Rachel explains in no uncertain terms some very important information.
Tuesday, June 07, 2005
Jan over at the Digital Photography Blog (Darren's blog)has posted a great tip on "what to do when" when photoshopping digital photos.
While hard to create an absolute must do list, she does go through the basic tasks and outlines why you would do them.
I am sure there will be plenty more meaty follow up posts so stay tuned! Why not subscribe to the XML/RSS feed to the Digital Photography Blog to receive it direct in your news reader.
Saturday, June 04, 2005
Google now has a program to let you create sitemaps of your web sites. Try Google Sitemaps! You can login using your GMail account. By using Google Sitemaps you get:
Better crawl coverage to help people find more of your web pages
Fresher search results
A smarter crawl because you can provide specific information about all your web pages, such as when a page was last modified or how frequently a page changes
For people using
Wordpress
see
Michael Nguyen's post
.
Thursday, June 02, 2005
I have noted that last month 4 times as many people visited the Spy Journal sites using Linux as an operating system as Macintosh. It seems that Apple users are now a very small minority in the Spy Journal world. If you are using a Mac to view this then please say Hi!
Google is still by far and away the most popular search engine with 75% of the 4% of traffic coming to me being directed via Google. Does this mean that most people are using Google, or simply that I am ranked more highly there. I suspect the latter seeing as this blog is published using Blogger, a Google product.
J-Walk continues to send me masses of traffic - thanks Jon. Doug from Reality Me is next.
The most popular keyword used in search engines to find me is "Excel" and the most popular phrase is "vba array".