Thursday, December 30, 2004
Look what I got in the mail today!
Thanks Susan!

Wednesday, December 29, 2004
I have finished!
I now have 6 PCs running Windows XP SP2 and connected to the Small Business server.
I have exchange mail enabled and working, I have desktops and my documents synchronising onto the server, I have all my company documents stored on the server and being backed up, I have Shavlik patch management software installed and working.
I still have my Linux machines as the gateway to the internet, the mail server and firewall.

I have learnt a lot through this process.
The only thing I lost was my email folder! all 175Mb of it. My fault! I deleted it after thinking I had backed it up only to realise later that I had deleted the backup while cleaning folders out prior to reinstalling the operating system.
Fortunately I had an earlier backup that only lost me a little mail that wasn't critical.

The only other issue I had was on the ASUS P4C800E Deluxe motherboard with 2 S-ATA drives. Nothing I tried would let Windows XP recognise the drives. I ended up using the IDE drive as the Operating system and putting the S-ATA's in after it was booted up. They could only be recognised as dynamic disks.
Solution - I wont buy that board again! I have two other ASUS boards running S-ATA drives as the only drives and they work fine.
Here's how I did that.
Saturday, December 25, 2004
Closed for Christmas!
Normal programming will resume shortly.
Have a safe and Merry Christmas.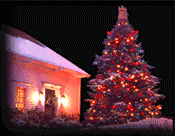 Hint - Do NOT leave the 3 yr old unsupervised with the 6 tear old's paints she got for Christmas!
Friday, December 24, 2004
Another competitor for Google is Blingo (which probably uses Google's API). Blingo gives prizes (Ipods etc) along with search results.
Monday, December 20, 2004
Patch Management Org have a list of the patch management softwares out there.
Shavlik is what I am trialling. 1 server / 10 clients free trial.
More details later after I have used it a bit.
Once again thanks to Susan for the links.
Sunday, December 19, 2004
I know there are other Desktop Search Tools out there now but I ahvent bothered looking for any yet.
So far I have tried Google and Copernic. I was convinvced to try Copernic largely from my previous experience with them.
However I wasn't convinced to stick with them after about an hour of trying to use it. Even this article from PC Woprld couldnt convince me, though it gave Copernic a good rap.
I felt it wasn't intuitive to use whereas the Google tool uses the familiar web interface. Second I struggled to find the same results I achieved in my Google desktop search. Finally Copernic didnt seem to be able to search network drives - even mapped ones, whereas Google did locate files on network shares.
So Copernic was uninstalled and recycled and Google is running strong on my desktop.
Friday, December 17, 2004
Where can you find mime types?
In a box on IANA!

The Internet Assigned Numbers Authority assigns and list all mime types. So what is a a mime type?
MIME is a standard for describing different types of information This was originally meant to be used to specify encoding for different types of information into text. This made it possible to send them as e-mail. (source: LANTech)
The Internet Archive is a free digital repository.

The Internet Archive is a 501(c)(3) public nonprofit that was founded to build an 'Internet library', with the purpose of offering permanent access for researchers, historians, and scholars to historical collections that exist in digital format. Founded in 1996 and located in the Presidio of San Francisco, the Archive has been receiving data donations from Alexa Internet and others. In late 1999, the organization started to grow to build more well-rounded collections.
There is over a petabyte of information there and it is currently growing at 20 Terabytes a month!
Ensure your websites are archived in there by visiting the
Alexa crawler site
and requesting your blog url to be crawled.
Wednesday, December 15, 2004
Does your optical mouse sometimes behave like a dirty ball mouse? It can be very frustrating when the cursor does not move as you expect it.

The solution is simple. Some dust or a hair has attached to the bottom of the mouse wiht static electricity. Simply wipe the bottom of the mouse clean and make sure that no dirt obstructs the LED.

A fun practical joke for your co-workers is to put a small sticky note under the optical mouse. The pointer will refuse to move. Most people bang their mouse on the desk then assume the computer is locked up and power cycle it. Enjoy!




Susan points to the Sharepoint Help File and describes its contents.


This compiled help file provides searchable, up-to-date information about using and managing sites based on Microsoft Windows SharePoint Services technology. The topics covered in this file include the following:

* Basic concepts
* Viewing information
* Sharing files and documents
* Sharing information
* Deleting information
* Organizing meetings
* Customizing lists and pages
* Customizing sites
* Customizing pages by using Web Parts
* Managing permissions and security
* Managing sites and settings
* Troubleshooting
* Reference

The content in this file is different from the content you can find in a Windows SharePoint Services site when you click Help. This content has been updated to correct errors, add information, and be easier to browse.
The
Sharepoint Services Admin Guide
can also be found on Microsoft dotcom.
Tuesday, December 14, 2004
First of all this site was transferred to a new server by my host - that went smoothly. What didn't flow smoothly was my ability to type IP addresses into the WWW and MX records in my DNS host DirectNic. 12 hours later when I wondered why it wasn't live I worked it out and changed it.

While I was at a clients we had a massive storm including a lightning strike that fried my router and the NIC on the server here at home. Fortunately the server itself wasn't damaged, though i have a backup server and insurance. (The insurance will also cover the cost of a new router and NIC's). Still that wasted me several hours last night as I tried to cobble together someone else's router only to find that it couldn't handle bridged connections. everntually we had to give up on a bad job and wait til morning.

When I got the new router (Netcomm NB1300+4) it was not immediately apparent just how to configure it. Eventually (3-4 hundred tech support calls later) and 3 hard resets we worked out that only 3 simple adjustments were required to the standard out of the box settings. Worked like a charm. Unfortunately the new NIC's I bought were too good for the Linux server, and its kernel had to be updated and rebuilt. Finally around 2 PM this afternoon we were back online, the mail server almost (literally) fried the CPU on the server until it finished serving SPAM to all our customers and I was able to get back to doing what I was supposed to be doing - working!
Speegle is a search engine that will speak your results to you. Sounds useless right? What if this is a first step to having a two way interaction. Will the next step be you speaking back to the computer "results number 3 please" and having it read page to you?

I envision an interaction like this:
User: "Computer, search for 'speed of light'"
Computer: "Speed of light produced 12,362 results. Reading first 10. One ..."
User: "Computer, result number three."
Computer: "The Speed of Light A Cosmic Speed Limit The velocity of light plays a central role is astronomy and in physics."
Sorry for not posting last couple of days.
Transferring servers for this site followed by a lightning strike taking out my ADSL router on my other server are my excuses. I haven't had connectivity for 2 days (felt like I was blind!)
Back online now!
Monday, December 13, 2004
Have your search engine results spoken to you. Speegle requires headphones or speakers and will read your search engine results so that you don't need to read them.
Saturday, December 11, 2004
This is certainly not an install for the faint hearted (or technophobes).
Sure the actual install of the software (after my initial RAID issues) was pretty painless - in fact most of it happened while I was a sleep.
No the drama just started after that.

I have to send a HUGE thank you to Susan for all the help she gave me today. She spent a quiet Friday night at home surfing newsgroups and googling issues and sending me links to help with the install.

Of course I complicated things slightly by not running DHCP on the SBS server, as I have a Linux server which is my internet gateway, mail and web server and also provides DHCP to my network. However once we got around this it worked pretty well.

I am just going to link all the web sites I visited today (along with reading pages of help documentation).
Windows Small Business Server Downloads Page (though I actually used Windows date to get most of these)
Wayne Small SBS FAQ
SBS Rocks - Down Home Computers. This page was invaluable at assisting with the To Do list especially the internet connection wizard.
Calvert Technologies Based in Adelaide
Brisbane Small Business Server Users Group and the Yahoo Newsgroup
Sean Daniel - invaluable for assisting with My Documents folder redirection issues, as was this google groups page along with a Microsoft page from Spain (in English)
SBS Links helped with Group Policy management for the Redirect.
Windows Small Business Server 2003 Release Notes
Google Suggest Beta is a google feature being tested that completes your thought for you as you type. This is similar to MS Word's AI that recognizes certain words as you type them and completes the word for you when you press the tab key.

See more at Google Labs
Didn't take me long to break it!
Having just started the setup phase of the installation I came across this error "Cannot run DCPROMO because the sysvol partition is not formatted as NTFS".
Fortunately Google came to the rescue with a bunch of pages where this issue has been discussed and the work around (contained in this KB article) identified as the solution.
Interestingly enough Susan (the helpful SBS diva) wrote the official Microsoft Article about this.

The cause of the problem and the solution are as follows:

CAUSE


While Windows Small Business Server 2003 can be successfully installed on Basic Hard drives, the error may occur due to RAID, or SATA controllers. You may wish to review the documentation provided by your Server's Motherboard vendor as to recommended hard drive configurations.


RESOLUTION


Converting the hard drives to dynamic may resolve the issue. On the server, open up the Disk Management Console, then on Disk management under Storage and right mouse click on the hard drive to convert it to dynamic from basic.
In my case converting the hard drives to dynamic did indeed resolve it.
More pages discussing this problem.
CertTutor
MCSE
Friday, December 10, 2004
I have done it!
I purchased today a small machine to operate as a server running Small Business Server 2003.
It has the following specs
2.6Ghz Celeron CPU
ASUS P4P800-E Deluxe M/b (Supports Dual DDR)
2 x 256 Geil RAM
128Mb Geforce Video Card
2 x 200Gb S-ATA Hard drives configured in RAID-1
Monitor Keyboard and Mouse and UPS

I am installing SBS 2003 now.

However the point of this post is to assist all the thousands of people out there who like me have tried to install a Windows OS (including XP, SBS2K3, Windows 2000 etc) onto a S-ATA RAID configuration.

The trouble I ran into is that when installing from either a bootable CD-ROM or the Windows XP install floppies (downloadable from Microsoft) you need to press F6 (really quickly as it has a short time out) as the install is starting in order to be able to let Windows install the S-ATA RAID drivers it needs to recognise the hard drive. Otherwise you will get to the point in the install where Windows says it cannot find a hard drive.

Lets lay out the actual steps involved here.


First you must have two or more S-ATA drives in your PC, correctly connected to your motherboard and powered up.
Second you must configure the BIOS to reconignise these drives, enable the RAID format and make them bootable.
Third you need to run the RAID configuration utility usually a CTRL + some other key combination that will flash up when booting. Here you need to ensure that the selected drives are configured in your required RAID configuration. RAID-0 for stripe and RAID-1 for mirror.
Fourth you need to boot from your OS installation CD or floppy. As it starts to install watch for the install status display at the bottom of the screen to state "Press F6 to install additonal mass storage drivers". HIT F6 NOW!
Fifth put your driver floppy in the floppy drive. When the install stops and prompts for the drivers hit S to specify a driver. This will search the floppy and locate the driver. Select it and continue. Windows will now continue to install.
But wait you say - what floppy! I never got a floppy with drivers on it - how and what and grrrrr!.
OK I relate.
First off you will need access to a another machine that is already working (not very great if this is your only PC!) Put your motherboard driver disk (you do have one don't you?) in the CD or DVD drive and put a blank floppy in the floppy drive. If you don't have a motherboard CD then you are going to have to locate the required drivers (m/b chipset drivers not promise or raid controllers) from their web site.
Then locate the chipset drivers on the CD and find a readme.txt file that explains what S-ATA RAID drivers you need for the F6 installation method. (Or something similar - they are all slightly different.) Follow the instructions to extract the files to your floppy. Sometimes there will be a MakeDisk.exe file (or similar) that will do this automatically for you.
The important thing to note is that you are looking for the chipset S-ATA RAID drivers, not Promise 378 or other raid drivers. These are usually for IDE RAID and will not work in this instance.
If this doesn't help you can try emailing me... longshot but I have done a couple of these now different ways and am getting used to it!
All of this is required because Windows OS don't natively support S-ATA RAID drives!
Thursday, December 09, 2004
I am currently trialling the Copernic Desktop Search Tool.
Back when search engines were pretty crappy I used to use their internet seaarch tool to widen my search across a range of searh engines.
Their current advertising reckons this tool is better thean the Google one, which I am very satisfied with, though it it limited in what it indexes. Google doesn't search for images or address book contacts. Copernic claims to do both.
I will report back later on its usefulness.
I have been getting a lot of hits on this site for Insaniquarium hints after posting an article about it.
This is a fascinating game - more addictive than coffee! All my wives and kids are playing it, OK 1 wife and 3 of my kids as the 10 month old cannot yet. Even the 3 year old is playng it. My wife and eldest daughter have beaten me and finished the game. Their PCs are playing the screen saver in a mad grab for shells to buy more fish in their show aquariums.
Oh the hints, fill the tank with as many fish as possible, upgrade food quality and food quantity only and get the carnivores and ultravores as soon as possible - feed them heaps.
Use the pets that help generate and catch cash. I use the mermaid, the turtle and the snail. The mermaid generates a ton of cash, the turtle slows it down and the snail catches it. Basically by the time you get to the 4th round of tanks you are just clicking as fast as you can on the ton of cash streaming down.
And if you want to start the insanity click here.
Tuesday, December 07, 2004
What can we do with these strange technologies like Bluetooth?

Tate Britain Christmas Tree by Richard Wentworth
includes a Bluetooth antenna and receiver to which passers-by can leave 'gifts' in the form of photos, movies, text messages, and anything else that can be transferred as a file. On Christmas Day, the presents will be 'unwrapped' at http://www.untitledfolder.org/christmastree...
I have successfuly installed XP and updated to SP2 on machine number 2.
4 to go...
Monday, December 06, 2004
I have reformatted 1 PC and installed XP and then updated to SP2.
No problems so far!
Took 2.5 hours from start to finish including the formatting hard drive (80Gb).
5 PC's to go.
I believe from all the research I have done that the best way to ensure a safe migration to XP SP2 is to make sure you have a clean installation to start with. Mo malware, 3rd party applications etc.
I will keep you updated as I work through my PC stable.
Saturday, December 04, 2004
MSNBC reports that a new study reveals that 77% of home PC users are wrong in concluding that they are safe online.

The study conducted by America Online and the National Cyber Security Alliance reports:

Internet users at home are not nearly as safe online as they believe, according to a nationwide inspection by researchers. They found most consumers have no firewall protection, outdated antivirus software and dozens of spyware programs secretly running on their computers.
It also found that:

77 percent of 326 adults in 12 states assured researchers in a telephone poll they were safe from online threats.
When experts visited those same homes to examine computers, they found two-thirds of adults using antivirus software that was not updated in at least seven days.
Two-thirds of the computer users also were not using any type of protective firewall program, and spyware was found on the computers of 80 percent of those in the study.
NCSA has posted a list of the
Top 10 Security Tips
you can share with your friends and family members who believe they're safe (but you know they're not).
Friday, December 03, 2004
Advancements in imagery software over the years has been phenomenal. In our lifetime we have gone from printed photos in black and white made out of letters and periods to creating shading, to sloppy thermal prints, to color images that you "could tell was printed on a printer", to printed images that now rival real photos. We have even seen the death of the slide projector. With 5 megapixel cameras that can be purchased for $200 usd anyone can take high quality digital pictures.

Now Zoomify offers as a free download software that allows anyone to create pictures which can be zoomed into for greater detail. In this example, you can zoom in so close that you can see objects in the windows and find people on the sidewalks.

Thanks to James of Puerilis for turning us onto Zoomify!



Thursday, December 02, 2004
Seems I misjudged Susan in my recent post.
In her eagerness to promote security and XP SP2 to all, I incorrectly guessed she worked for Microsoft.
In her her words, just "a wacko female volunteer." She is mad keen about SBS (Small Business Server.)
I guess when my Microsoft Action Pack comes I will be learning how to set up the SBS myself! Susan's site has plenty of advice and assistance for those who want to know how.