Tuesday, September 25, 2007
Its finally here.
SpyJournal v3.0
was launched this week.
These pages will remain for archival purposes. However please change your link for this site directly to
www.spyjournal.biz
. If you are reading via RSS please change your RSS Feed to
http://www.spyjournal.biz/rss.xml
for the whole site feed, or for a
custom RSS Feed
design your own.
Labels: news
Wednesday, September 05, 2007
4:30 pm Went to clients - met Helen and Lena on the way. Got there early which is good so had time to do final prep. Went through all required work in time and answered all questions. Lena did well. Helen got lost after a while but it was her first look at Drupal so OK.
7PM Took the girls out for dinner then a train ride home.
8:45 Said hullo and goodnight to the older 2 girls, chatted with Jude for a bit and got back to my PC - it was missing me.
9:30 Now back in front of my PC answering email and some other jobs. Lena is working on websites - will be here for a couple of hours yet. I will get through the 20 odd emails I have to deal with tonight, work quotes, requests for information, an instructional email, deal with any issues Lena has, try and advance some of my backburner projects if I can and try not to cough too much. Should hit the sack around midnight with any luck. Will be a solid 20 hour day today. Will try and get 6 hours sleep before starting tomorrow.
Labels: mundane
Had water, more discussions and reformatting documents. Merging 2 documents together. One was a bugs found and irrelevant features report along with best practice recommendations for further system enhancements.
More coffee - another latte is being sucked down.
In 45 minutes I will be out the door here and heading to my next client where I will meet up with 2 of my staff. We are running a training session, and I am teaching them how to do that.
Have edited numerous documents, had several discussions with various people about content of documents, perused code and analysed validation rules.
I need a break, but not going to get one. I have sent another guy out for some water for me.
Talked to my brother Dave online briefly 0- has to leave the USA.
Back to work - more discussions.
Labels: mundane
11:45 Went for a brisk walk to a local food court and ordered a Japanese Pork Curry. Sat and ate. Yum!
Walked back briskly.
12:15 Back at work writing documentation of code for a file import process. Fun!
Labels: mundane
Enjoying coffee (a latte with 1 sugar) while I work. Today I am working on the final touches of a system documentation project. We have been reverse engineering (from source code) a Delphi Borland school data management system. We have developed a business process flow document and numerous flowcharts, an entity relationship diagram, screen shots and explanations for fields and tables, a data dictionary, analysed code and documented validation rules and processes, identified hooks and out of the system including import and export interfaces and parameters and much more.
Labels: mundane
Went to bed at 2am
Woke to the alarm and snoozed from 6:30 to 6:50
Showered and dressed
7am checked email and followed up on developer who was completing work while I was asleep – all done and looking good
7:15 left for train station
7:30 catch train and listen to music while reading novel
8:15 get to clients and get changed into business slacks and shirt
8:17 straight into business process flow documentation discussions
8:45 its my turn for coffee so I get a 15 minute jaunt to the local café to collect coffees for myself and 2 others in this mini project
more to come later
Labels: mundane
Sunday, September 02, 2007
I haven't put up a list of books I've read recently for ages.
Here goes - I may have missed some though.
The next after the Bourne Trilogy is the Bourne Betrayal. Eric Van Lustbader wrote this one after Robert Ludlum's death and with the family approval. - He has done a great job you would think you were reading Ludlum himself.
I give this a 4.5 out 5 and definitely recommend it for any other Ludlum fans out there.
This book is a great spy thriller. Set in a futuristic but fairly realist world, the cold war is back - only this time its USA vs the rest of the world, and the argument iis over who controls near space. GPS satellites are the only way anything happens, airplanes land using them. ships navigate with them, the world will grind to a halt without them. Enter a family man spy, his brilliant scientist wife and their precocious daughter and you have a recipe for a gripping thriller. I couldn't put this one down.
4 stars out of 5.
Ben Bova's "The Precipice was a little disappointing. I like my science fiction to be also a head jerk, and this one was very formulaic. The results were fairly predictable (although there is a twist at the end) and the characters were very flat. Not up to Ben's usual standard.
2.5 stars out of 5
Elizabeth Boyer has written a series of novels based in a world of Alfar (Elves) that exist side by side with the normal realm of humans. None of them seem to be connected (I have read the first 4 so far) but the stories all stand on their own anyway.
The stories are quite fun and have some humourous moments in them. the characters are not well developed emotionally or intellectually, but there is enough depth to the story and the description of the environment to be believable (for fantasy). Quite worth it for offbeat fantasy lovers.
I have read "The Sword and the Satchel", "The Elves and the Otterskin", The Thrall and the Dragons Heart" and "The Wizard and the Warlord".
3.5 stars out of 5
This is a cheap trashy crime novel with not much of a plot and not much in the way of a story. I picked it up out of a bargain bin at the train station and almost threw it away but I wanted to read something on the train. The trashy free newspaper would have been a better choice. Don't bother buying it, or wasting your time reading it.
0.5 stars out of 5
John Fullerton has written "The Monkey House" in a very believable style. Makes you think he had been there. Set in Sarejevo in the heart of the Balkans crisis and seen from the viewpoint of a policeman there this is an impelling inside story of the war's effects on law and order in Sarejevo. Fullerton is a war journalist and covered this war so the reality described is obviously been experienced by him.
The story itself is the attempt to solve a seemingly inane murder in a city full of death and dying. The monkey house itself is an apartment block curiously untouched by rebel fire in the heart of shelling. Apparently their own live there.
I recommend this one - 4 stars out of 5.
A series of very offbeat fantasy / fiction short stories with authors commentary between them. I think it would have helped if you had read her previous work (which I hadn't). Gentle has some reasonable craft as a writer, but she seems fixated on the development of a few specific themes, women in military being one of them.
2.5 stars out of 5
Elizabeth Moon is a fantastic writer. I owned one of her books "The Speed of Dark" before and bought this series of 3 books in an omnibus edition. Fantastic. They flow from one to the other in one large book!
The story is awesome. The plot has lots of twists and there is a huge amount of character development. There are 2 main characters, and 4-8 sub characters who are well developed, but even all the ancillary people needed to make a huge space faring book be put together are well explained and don't seem out of place. In fact the only errors I could find in the books were 2 spelling mistakes and 1 typesetting error.
I really enjoyed these novels and Moon does a great job and providing very realistic descriptions of haute cuisine, horse riding (eventing and to foxes) as well as space warfare that you can imagine yourself being there.
5 stars out of 5
Labels: Books, Bourne, Bova, Boyer, Moon
Saturday, September 01, 2007
Caught a great carpet python today. We were up Mt Mee and I think the car in front hit this beauty on the road. May not have done any damage that I could see. It was slithering off as we pulled to a stop and I leapt out. Caught the beastie by the tail and lifted it up and gave the kids a good look at it. It was very nice for a while, but after it started to get a tad stroppy we put it down and it immediately got into a striking position and proceeded to make big mouth open strikes at us. Now we know a fair bit about snakes (and have 2 already) we weren't worried but were able to show the kids how to react.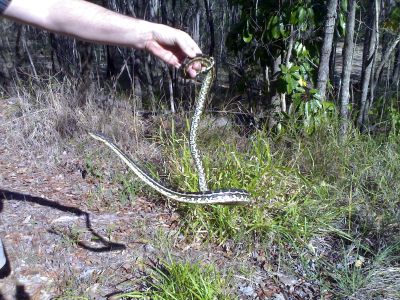 This snake is a 1-1.2 metre carpet python.
Morelia spilota mcdowelli
More pics on
Flikr
Labels: snake