Tuesday, July 18, 2006
I am aging rapidly. My heart can't take much more of this.
My 7 yr old daughter has discovered its real fun to sneak up on me in my office, stand right beside my chair and yell BOO! as loud as she can. My heart is still pounding from the last time.
Thursday, July 13, 2006
Tonight I bought two drinks from the local petrol station in Middlemount Central Queensland Australia. Middle of nowhere - mining town - only servo for miles.
They were both imports from New Zealand and the most unlikely drink to find here. Both are uniquely kiwi drinks!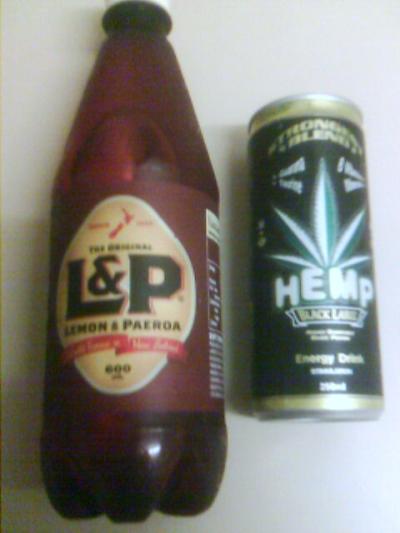 Tuesday, July 11, 2006
The Blue Sloth writes an article about Zidane's headbutt in the world cup final
Here was my response in his comments:
Let me say that I agree that Zidane's actions were reprehensible and unconscionable
However let me respond to Amber (and others including TV commentators) suggestion that Marco said something that caused him to react this way.
I have played sport (amateur and semi pro) for most of my life so far - over 30 years
I have seen all sorts of sledging, racial vilification and intentional spitefull baiting to incite fights.
There is nothing so bad that can be said to you that can or should provoke violence as a response. (and trust me I have heard some of the worst - far to vulgar to repeat on a family show like the sloths!)
I take a different view to the physical response to violence (where necessary).
However the Real Madrid Zidane shirt I own I will now wear none so proudly as I once did, and not out in public for a while at least.
I am sure in the cold hard light of day that Zidane is abjectly distraught as that action will notorised in history as one of the bizarre incidents related to a world cup final along with the likes of the hand of god and others.
Lets move on from vilifying and roasting Zidane - he alone has to answer to his actions and live with his conscience. Lets simply use this as an example of bad sportmanship - (probably from Marco as well thought that remains to be seen) and teach our kids that violence whether provoked or not is unacceptable in sport or in any arena of life.
Monday, July 10, 2006
The first was Parklife.
The lads won the semi final on Friday night, putting us into the 5th Grand final in 16 seasons. Unfortunately it didn't look like we were going to be able to field a team due to injuries and work and other committments. Some fast talking with the officials, a letter written by the captain, and an agreement with the other team saw myself and our injured captain available to play. Neither of us were qualified as we had not played the request 5 matches. However the other team in a spirit of sportsmanship generously allowed us to play so they could have a worthy team to play.
We took the field, and unfortunately went down 1 nil immediately with a keeping error, followed in short succession by another handball outside the box by the keeper resulting in a penalty, duly slotted.
I took the field and went straight to goal and kept the rest bar one goal out for the remainder of the first half. The goal scored was partly my fault, and partly bad luck. I went outside the box to intercept and save a hard strike at goal - the bruise is still on my calf. However the ball rebounded to half way and before I could get back into the goal was belted home. To make matters worse I was accidentally impeded in my return by one of our players.
We went to half time 4-1 down but believing we could overcome the deficit.
Second half started well with lots of strikes on goal, and although we let another one in due to a 2 on 1 attack on our goal we kept our heads up. Then Josh struck, and struck again and it was 5-3. We were back in it and with 2 minutes to play went all out on attack. This left our defence strung out and they countered with another 2 on 1 attack splitting the defender and myself in goal and hitting another home.
I then let another one in in a similar situation to the first I conceded by saving a goal and leaving the goal open for a counter volley. Finally with 30 seconds to go I dribbled out of the goal circle, got forced wide - taken to the net and forced to attempt a long pass to one of our players hanging free near the opposition goal. The pass was cut off and rolled into the goal with 1 second on the clock.
The rest of the details are on the Parklife website
.
The other final was Italy V France with Italy winning on a penalty shootout.
Parklife will now hang up the boots as a club.
Pat wrote this to us all last week.
I would like to thank you all for the last 5 years. Its just been a wondeful journey with the Parklifers. Between the 50 game plus Parklifers we have played a combined total of over 1000 games which is some achievement. The approx totals are

Pat 171
Ben 154
Tim 153
Ralf 147
Mike 135
Larry 122
Pete 105
Eugene 60 and
Noss 57

To all the Parklifers - thanks for some wonderful times - stories we can tell our kids - and five Grand Final defeats!
Friday, July 07, 2006
In 1.5 hours I head off to Emerald to catch the plane back to Brisbane.
I will be home tonight and then we are going to the medieaval tournament on Saturday - no electronics allowed! We are leaving the phones, PDA's, tamagotchi's and email behind!
Sometimes I really enjoy the simpler life but I appreciate the technology that we have to make our lives more productive. The balance can be found in using the technology to create additional time to spend with the family. I just need to practice that statement more!
The World Cup Final is coming - Sunday morning our time France and Italy will meet and determine the winner. I think these two teams will play a pretty defensive game and the end score will either be determined by a penalty shoot out or possibly Italy will win 1-0 in regular time. I don't think France has the goods. Zidane is desparate to win and that might provide them some impetus, but I really don't see them getting past the Italian back line. The only thing that could go wrong for the Italians is for some erd cards to be issued in the back line.
On a similar note, Parklife, my indoor soccer team (though I haven't played this year) is finishing tonight (or possibly tomorrow) The Lads are in a semi final tonight and I will go and watch and support. If we win then tomorrow will be a final and that will be the end of a history! I played 157 games for Parkilfe, the 3rd highest.
Go Lads!
Wednesday, July 05, 2006
Only 6.5 hours to go to the start of the last semi final of the World Cup.
The game this morning was kind of drearily fascinating. Apart from being a nailbiter in terms of the finish - and what a finish! - it was very stereotypical.
The Germans played with almost metronomic precision - very BMW! Passes were crisp and to the feet and tehir was almost no individual flair or thrusts. In contrast the Italians were largely laisse faire and very creative with their play. Often their passes were almost instinctive and not to feet but to spaces. The Germans had to work hard to contain them, and did for 118 minutes. The Italians always looked like winning and were a very different side to the the game against Australia.
Oh well in about 8 hours or so I will know who is going to try and beat Italy for the cup itself. My hope is Portugal is the winner - as a first timer to win the cup that would be fantastic, and the cup would be another cap in the crown of Figo - a very talented player.
Night...
I am over being ill...
This graves disease thing is annoying the heck out of me.
the last couple of weeks have been really rough with my breathing and heart rate going through the roof with any exercise. Tonight I played squash and ending up not only losing badly but giving away points because i couldnt breathe and couldn't get oxygen into my blood. I had to stop to rest several times. I was not tired or worn out but my breathing was so heavy and my head was pounding. The same thing happened last year when my medication was not working and the disease spiralled out of control.
I had a dose of radioactive iodine 5 weeks ago which was supposed to kill the thyroid and my medication was reduced also. I had blood tests last week so I am going to email the doc (endocrinologist) and find out what's going on.
I can't wait to give the guy I played a flogging - I know I can do it. I was 7-1 up in a game tonight when I controlled the breathing and the play. But when we had a rally he exhausted me and I ended up giving away the next 8 points to lose 9-7.
We sent the kids off for the weekend - well the eldest 2 anyway. It was great and bad at the same time. (Bad cos we missed them! - great because we had more time to ourselves)
Grandad and Grandma (my parents) have been over staying from New Zealand. They took a unit up the coast and took the eldest 2 away for 3 days. We missed them but enjoyed the time with the 2 youngest. I was away all Saturday at a
LAN party
anyway but I really noticed the 2 little ones getting more of my attention without having to compete with their elder sisters.
Sunday lunch we went to a friends place from church. The 2 littlies played outside with their kids while the adults engaged in some excellent conversations.
Then Mopnday we went to collect the kids, played on the beach, had fish and chips and went to a large shopping mall to buy some clothes.
It was good to have kids back home.
I have had so much happen in the last couple of weeks I almost don't know how to record it all. So as to avoid a long boring post I am going to do a lot of short ones as remember stuff.
Right now I am at the coal mines. dodged a kangaroo crossing the road in front of me again today. Every day that you don't hit one is a good day!