Monday, March 27, 2006
Here are the best pics from
Jadeens birthday party
of my girls.
Judith
Miranda
Jadeen
Erin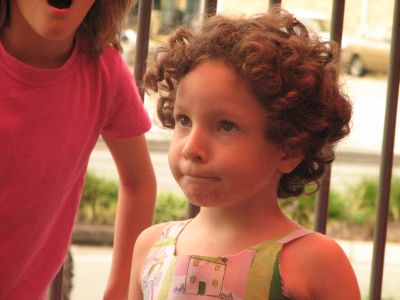 Mercedes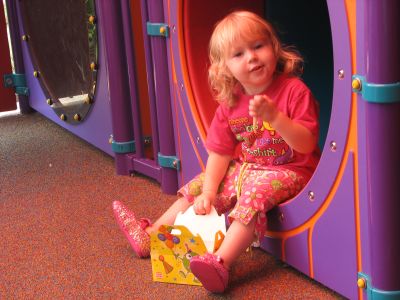 Sunday, March 26, 2006
Dare to Dream and Work to Win - Dr Tom Barrett
The Silent Cradle - Margaret Cuthbert
Talon of the Silver Hawk - Raymond Feist
Tuesday, March 21, 2006
I had the clearest vision last night.
Background
We all know that it is the characater traits of a person that make that person who they are. Put another way, God gives us gifts or abilirties or character and personality traits, that when used correctly, He can use to advance His Kingdom. Alternatviely those same traits and abilities used out of control, or abused or neglected can assist Satan to advance his kingdom of chaos and rebellion.
I had the clearest dream last night just before I woke where I saw first hand the problem when we rely in our own strength and ability and thereby limit God to what we can do and not what He can do.
In our home group study last night we were talking about using the abilities God has given us and not hiding them or burying them. Sometimes we are so frightened of using our abilities, for fear of others, for fear of failing etc, that we just don't use them - remember the story of the 10, 5 and 1 talents. The bloke who buried his was fearful of his master. He was punished for for not even trying.
In my dream I was presented with a financial challenge to assist someone in need, and without knowing the size of the challenge burst out to the indifferent people around that we should help and do something for this person. However once I heard the size of the problem, which was $500,000, in my dream I rejected the possibility of success. And as I turned away I heard clearly in my dream the voice of God saying don't limit me by your thinking. Suddenly in the dream it changed to look at ways that the goal could be achieved and then my alarm went off.
Right now I am looking at some business decisions that could make or break me. I know I have the opportunity to do some big things, but if I let opportunity slide away again then I am limiting God's willingness to outperform me.
Do I have the guts to go forward in faith, to step out of the boat and walk on water, or will fear hold me back?
Saturday, March 18, 2006
I finished reading in the last 2 weeks:
The Magic of Thinking Big
- David Schwartz - excellent read -recommended - 5 stars
The Power of 2
- Anthony Scire - easy to read and a interesting but somewhat labored point - 3 stars
Eyewitness Falklands
- Robert Fox MBE - very interesting read. Eyewitness account from a reporter who walked (yomped) through the Falklands during the conflict in the 80's. Certainly an eyeopener and a must for any miltary historian or tactician. That said, its an interesting read for the non military minded if simply from a psychological perspective of war from the inside, but through the eyes of a civilian.
The Victoria Cross was awarded posthumously to one of the most interesting and courageous characters from the conflict, Lieutenant-Colonel Herbert 'H' Jones. The author 'Foxy' was the last person to record his words, though unfortunately that tape was lost after the heavy fighting in the battle for Goose Green shortly after H died attacking 2 machine gun nests at Darwin.
The accounts of the artillery shelling on Mt Longdon, Harriet and the Two Sisters was also quite graphic and not a place I would have liked to be.
Robert writes without pretentiousness and with a simple 'this is how it was' style. In the last chapter however he gets quite sanguine and very analytic about the war, and conflict in general.
This book is an observation first hand of the cost of not being able to resolve our differences as humans with words. When diplomacy breaks down, when greed, political chicanery and petty manouvering become our motives, the cost is human life, often cheaply expended, and never with just cause.
Robert doesn't shy away from this, and in fact calls the shots quite clearly on some of the political figures who were as much a factor in the war, though very remote from the cold, the mud and the shells, as the men on the ground.
A stirring read - 5 stars.
Tuesday, March 14, 2006
What a fun weekend!
Jadeen had her birthday party (photos to come soon) on Saturday. It was a fairy party at Hungry Jacks (Burger King). Jude made her a fairy outfit including wings. I bought her a lovely necklace with brightly coloured stones and a large cat's eye on it.
A whole bunch of her friends and their mothers showed up and she had a blast. I think her favourite present had to be a Tamagochi. We have been regaled with the current growth status of her virtual pet ever since. Dad has had to be consulted for assistance with its teething, going to sleep and waking and also with pausing the device. We don't let her play with it all day! I took stacks of photos and will publish them on the
www.millerfamily.biz
website later.
Saturday night Jude and I watched the Corpse Bride. A great animated comedy / drama with an excellent musical like storyline and musical numbers. Very well produced and based on a Russian tale I believe.
On Sunday after church we had a Girls Brigade outing including lunch and a swimming pool. The kids had a blast and I taught all the girls how to do belly flops. Jadeen excelled once again doing awesome starfish belly flops into the pool.
Sunday afternoon Dan and Cathy and Jamie and Kristy Lee came over. We had a movie night. First we watched Wallace and Gromit, the curse of the Were Rabbit. Hilarious as always, the full length film was well paced and brilliantly created.
This was followed up for the adults (after roast lamb dinner) with The Emperor and Assassin, an art house Chinese film based on the true story of the first empire in China constructed in 221BC. This
review of The Emperor and Assassin
is spot on.
Thursday, March 09, 2006
Since I last posted I have billed hours of time at several clients, completed church accounting for audit, built a PC, ran a
LAN
, troubleshot several other PC's, played squash and basketball, organised a charity squash tournament for some of my clients with the proceeds going to
Operation Smile
, blogged heaps (just not here), upgraded a drupal database nearly sucessfully, gave in and reinstallled it, played with my kids, played balderdash and cranium with some friends of ours, played with my wife,
built a tank stand for two terrariums, built light covers for them and wired up UV fluoro and heat lamps
...
and that wasn't all!
I have also learnt some cool stuff about Microsoft Excel and
blogged that
.