Friday, September 30, 2005
The Car
We have a new car.
Pictures on
Jude's Site
.
Big Sister
Jadeen loves looking after Mercedes.
Here they are. Click the picture for a bigger version.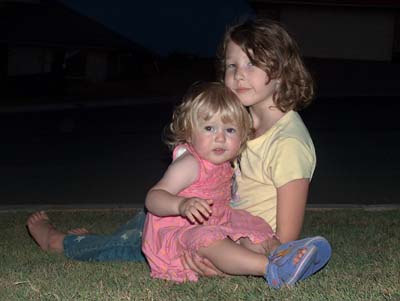 Tuesday, September 27, 2005
Thought
Jude
sent me this Rwandan Proverb.
"You can outdistance that which is running after you but not what is running inside you."
Monday, September 26, 2005
New Car!
Its almost here. The hardest part is waiting!
We are waiting for the dealer to fit all the accessories we optioned and they threw in for free! Yeah baby!
Krystal is having a great barney in the comments on her blog over
this post
. Only comment if you can add to the conversation though.
Saturday, September 24, 2005
Swans won
Grrrr.
I really wanted them to lose after the semi final where Bad Barry Hall gut punched McGuire. it was a hard fought match and the Swans eventually won the 2005 AFL Grand Final by 4 points in an absolute nailbiter.
We also signed the puchase documents on a
Ford Territory TS AWD
today. We are trading in the Kia Carnival. We will finalise the sale next week when all the options have been installed.
Computers
Today I purchased another PC for some friends. Tonight I am installing software and updating and patching everything for them. They are on dialup. I will get them to come over here for final configuration before they take it home. That way if they need any more downloads for any reason we can do it a 1500 kbps not 56kbps!
Friday, September 23, 2005
The beach was good today!
After I finished work and Lena the cleaner had finished we took her home, ran a few errands and headed to the beach. We met another home schooling family to play. The kids had a blast in the water followed by the playground followed by icecreams at McDonalds.
We then dropped by a car yard and then to McDonalds for dinner before going home. After the kids were in bed I watched Spitfire Ace. Then Jude and I watched a double session of Alias together before I purchased another PC on line for a client.
A good fun day!
Thursday, September 22, 2005
Cheap Entertainment
I spent $15 yesterday on 10metres of garden plastic and made a water slide that amused our kids and the neighbourhood for 2 hours and will continue to do so for many more days!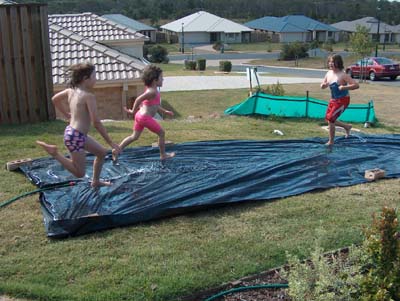 Tuesday, September 20, 2005
Work
Monday I worked at a clients finishing the weekend job and their monthly accounts. The rest of this week I will be working from home on a couple of projects for clients and basically clearing my plate. Once they are finished I am waiting on two clients for work to do - but need to wait for others first. So I might get some of those other jobs done (that are clogging up my One Note) including adding links to this site, fixing some stuff that is broke and being nice to the wife!
Oh and today I need to do GST returns also.
The Story from Saturday
Saturday morning I worked. In the afternoon we all went out - I went to play soccer. The season finished last week but our coach also coaches the under 17 state side. They have 3 weeks til they play their rep games. Tow guys from our team were int he side also. He wanted our team and the next team up from our club to put together a team to play them. So we did. We lost 4-2 in a pretty close match - they scored the last two goals in the last 5 minutes. They are a young bunch of guys but they play very well together and have a lot of skills. The kids played on the playground and went shopping while I was playing.
Then in the evening we had a great dinner and played yahtzee and other games with the kids.
Saturday, September 17, 2005
Too tired to blog
zzzz
story coming tomorrow
Friday, September 16, 2005
Response to my post about Katrina
I received qute a lot of emails about my post regarding the news coverage of New Orleans. While it seems that a lot of people have experienced the same sort of news coverage as I have there are some exceptions.
I had to post this response though - with permission and edited slightly.

Between you an me mate it's a shocker.

Yeah, I've also been reading blogs of couple of guys still online stuck in the middle of it as well which reinforce all the negative media as well. I'll put money on it that the humanitarian stories are going to be the propaganda that the US govt uses to cover up the fact that the richest country in the world who can mobilise and deploy armies to assist in other countries within hours. They couldn't even look after their OWN civilians in a time of crisis ESPECIALLY when they had already received advice that this would occur and the level of devestation that would occur if a storm of that magnitude hit.

What's especially interesting to hear is that they DID once have the funds to commence this engineering reinforcement of the region however the funds were rediverted several years ago into another oil well if you understand my drift. They cancelled funding to use the cash in the war effort.

When people asked me to donate money to this on the street the other day, I told em to politely "__ off - If the richest country in the world needs outside cash to assist it's own citizens (and the tax the govt get from said donations don't forget). How bout you just ignore the US and focus on the 3rd world countries who REALLY need the help instead..."

Funnily enough, they gave me a filthy look.. Idiots...
Only decent thing about this is that the Red Cross are probably gonna play this up an soak up as much extra cash as it can an redirect it into places that really need it outside of the US.

If the American people don't see this for what it is an wake up to themselves and pull there head in, I can only continue to hold that countries people in contempt.

*end rant and steps off soapbox & rubs raw nerve*
Thursday, September 15, 2005
New Orleans - the real story
I had to repost this entire story as the website it is in does not have perma linkks for articles
Michael Barnett
who has been running DirectNics operations in NO since the Katrina disaster has a brother whose friend Robert LeBlanc stayed behind to volunteer rescue people. Here is what Michael says:
"And that reminds me that I should mention my friend Robert (ro bear) Leblanc. You know, he's a shy guy and will be very embarrassed that I mentioned him, but I was told by my brother about what he's been doing. He didn't run from the hurricane, but instead stayed behind and began plucking people out of the water with his boat for like a week or 10 days now. What a stud. I'm proud to be his friend."
Here is the story from Robert himself.
Robert LeBlanc
Information and stories from Robert LeBlanc as passed on to me by a friend.
Jeff Rau, a family and now personal friend to whom I will forever be linked, and I were volunteering with a boat and pulling people out of the water on Wednesday. I have a first-hand experience of what we encountered. In my opinion, everything that is going on in the media is a complete bastardization of what is really happening. The result is that good people are dying and losing family members. I have my own set of opinions about welfare and people working to improve thier own lot instead of looking for handouts, but what is occurring now is well beyond those borders. These people need help and need to get out. We can sort out all of the social and political issues later, but human beings with any sense of compassion would agree that the travesty that is going on here in New Orleans needs to end and people's lives need to be saved and families need to be put back together. Now.

I will tell you that I would probably disagree with most of the people that still need to be saved on political, social, and cultural values. However, it must be noted that these people love thier friends and families like I do, desire to live like I do, and care for their respective communities (I was even amazed at the site of seemingly young and poor black people caring for sickly and seemingly well-to-do white people and tourists still needing evacuation from New Orleans' downtown area) the same way I care for mine.

Eight people in particular who stood out during our rescue and whose stories deserve to be told:

1.) We were in motor boats all day ferrying people back and forth approximately a mile and a half each way (from Carrolton down Airline Hwy to the Causeway overpass). Early in the day, we witnessed a black man in a boat with no motor paddling with a piece of lumber. He rescued people in the boat and paddled them to safety (a mile and a half). He then, amidst all of the boats with motors, turned around and paddled back out across the mile and a half stretch to do his part in getting more people out. He refused to give up or occupy any of the motored boat resources because he did not want to slow us down in our efforts. I saw him at about 5:00 p.m., paddling away from the rescue point back out into the neighborhoods with about a half mile until he got to the neighborhood, just two hours before nightfall. I am sure that his trip took at least an hour and a half each trip, and he was going back to get more people knowing that he'd run out of daylight. He did all of this with a two-by-four.

2.) One of the groups that we rescued were 50 people standing on the bridge that crosses over Airline Hwy just before getting to Carrolton Ave going toward downtown. Most of these people had been there, with no food, water, or anyplace to go since Monday morning (we got to them Wed afternoon) and surrounded by 10 feet of water all around them. There was one guy who had been there since the beginning, organizing people and helping more people to get to the bridge safely as more water rose on Wednesday morning. He did not leave the bridge until everyone got off safely, even deferring to people who had gotten to the bridge Wed a.m. and, although inconvenienced by loss of power and weather damage, did have the luxury of some food and some water as late as Tuesday evening. This guy waited on the bridge until dusk, and was one of the last boats out that night. He could have easily not made it out that night and been stranded on the bridge alone.

3.) The third story may be the most compelling. I will not mince words. This was in a really rough neighborhood and we came across five seemingly unsavory characters. One had scars from what seemed to be gunshot wounds. We found these guys at a two-story recreational complex, one of the only two-story buildings in the neighborhood. They broke into the center and tried to rustle as many people as possible from the neighborhood into the center. These guys stayed outside in the center all day, getting everyone out of the rec center onto boats. We approached them at approximately 6:30 p.m., obviously one of the last trips of the day, and they sent us further into the neighborhood to get more people out of homes and off rooftops instead of getting on themselves. This at the risk of their not getting out and having to stay in the water for an undetermined (you have to understand the uncertainly that all of the people in these accounts faced without having any info on the resc! ue ef!
forts, how far or deep the flooding was, or where to go if they want to swim or walk out) amount of time. These five guys were on the last boat out of the neighborhood at sundown. They were incredibly grateful, mentioned numerous times 'God is going to bless y'all for this'. When we got them to the dock, they offered us an Allen Iverson jersey off of one of their backs as a gesture of gratitude, which was literally probably the most valuable possession among them all. Obviously, we declined, but I remain tremendously impacted by this gesture.

I don't know what to do with all of this, but I think we need to get this story out. Some of what is being portrayed among the media is happening and is terrible, but it is among a very small group of people, not the majority. They make it seem like New Orleans has somehow taken the atmosphere of the mobs in Mogadishu portrayed in the book and movie "Black Hawk Down," which is making volunteers (including us) more hesitant and rescue attempts more difficult. As a result, people are dying. My family has been volunteering at the shelters here in Houma and can count on one hand the number of people among thousands who have not said "Thank You." or "God Bless You." Their lives shattered and families torn apart, gracious just to have us serve them beans and rice.

If anything, these eight people's stories deserve to be told, so that people across the world will know what they really did in the midst of this devastation. So that it will not be assumed that they were looting hospitals, they were shooting at helicopters. It must be known that they, like many other people that we encountered, sacrificed themselves during all of this to help other people in more dire straits than their own.

It is also important to know that this account is coming from someone who is politically conservative, believes in capitalism and free enterprise, and is traditionally against many of the opinions and stances of activists like Michael Moore and other liberals on most of the hot-topic political issues of the day. Believe me, I am not the political activist. This transcends politics. This is about humanity and helping mankind. We need to get these people out. Save their lives. We can sort out all of the political and social issues later. People need to know the truth of what is going on at the ground level so that they know that New Orleans and the people stranded there are, despite being panicked and desperate, gracious people and they deserve the chance to live. They need all of our help, as well.

This is an accurate account of things. Jeffery Rau would probably tell the same exact stories.

Regards,
Robert LeBlanc


Wednesday, September 14, 2005
Great day
Today I was at home all day. Didn't leave the yard!
Yesterday I salvaged more bricks, tiles and timber from the building site across the street. I gained permission the other day from the builders father-in-law and have salvaged 180 house bricks, quite a bit of timber, weatherboard and some floor tiles. Project for when my parents are over in October is to build a cubby house for the kids. There are so many houses going up around here that I should be able to more than triple that pile before they get here.
I spent time with each of the kids today meaning that they all had their love tanks filled and that meant they were in bed early and it was time to work .. ummm .. I mean fill the wifes love tank!
Great Digital Camera tips - in your email
Sign up for
these free tips
on using your digital camera.
Included are tips like:
# How to make your photos look like the ones that appear in the magazines
# Learn the secrets for nicely balanced photos
# Which zoom mode is best, and which can harm your images
# Become a kid magnet! Take winning shots involving tots!
# Ensure that with every group of photos you take, you'll always have a couple of great ones
# The piece of equipment professionals never leave the house without.
# Ultra-secret method that can make your otherwise boring shots really stand out!
# Never get too-bright or too-dark images again
# Ever wanted to know how to get the perfect candle-blowing image? I tell you how!
# The features of your camera you should never use
# and much more...
Tuesday, September 13, 2005
Building Sandcastles
Thanks to The Blue Sloth's post about building sandcastles (actually he's made heaps of them - posts and sandcastles that is) I decided to have a go at a big one.
While I have built lots of sandcastles in my life and a lot of tide forts I have never built one as big as what I did on Sunday afternoon.

I have 3 blisters thanks to not taking my gloves. I did shovel a LOT of sand though.
Here are some pics - and there are bunch more on
my wife's page
.
I was going to build an artistic castle but the tide was just peaking and I decided building a tide fort would be more fun for the kids. We did build a few little towers though.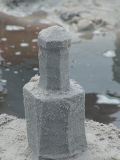 I have to say that Phillip's pancake method is spot on. Using a slurry of wet sand you slop it down and using some pressure massage it into a pancake. The water drains down pretty quickly and you lose the ability to mould the sand. Grab the next wet handful and do the same. You should end up with a tower of little pancakes of sand.
For best results once about 15 cm high leave it for a few minutes to dry before putting any more on.
I am going to have to practise how high I can go - I got about 30 cm yesterday on the highest one. Once that is in place and dry then you can start to carve it. The sand sticks together like mortar as Phil said. It is easy to scrape away. I used an old cheese slicer for this. (It went back in the cutlery drawer later!)

The next one I build will not be a tide fort but a walled castle town. I might be a bit ambitous here but its worth a try.
Cooked a lovely meal as well.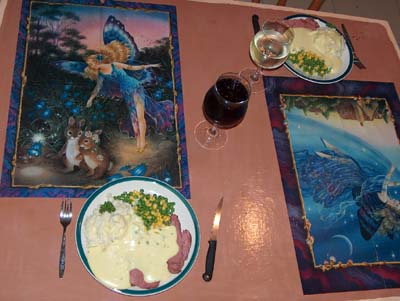 Find the large version of the photos at the
millerfamily website
.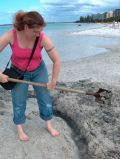 Sunday, September 11, 2005
The unbelievable happened
We Lost!
Ouch.
Ok we started well, and went 1-0 up in 5 minutes. The rest of the half we pressured and really dominated. Lots of chances were not converted.
45 minutes in we gave a penalty away just outside our goal box and it was convereted and then the half time whistle went immediately.
The second half they came out firing and it was all we could do to contain them. We had a few chances but they had a lot and ended up converting finally about 20 minutes in. With about 15 minutes left we gained a handball penlty in their goal box and converted to take it to 2-2.
Full time went and we knew we had to play extra time. 10 minutes each way Golden Goal - that is the first goal scored finishes the match. First 10 minutes we played our guts out. About 2-3 minutes into the second half the ball was brought down the sideline and the guy I was marking was able to cross it in. It ricochetted backward and forward between a couple of players before being poked forward to a player in an offside position as I raced to get him. The linesman didn't call it and from about the penalty spot he poked it past my foot and past our keeper to win them the match. I chatted with him about it later and he even admitted he was offside. Didn't matter - the game was over.
I did get a medallion for making the final...
There is always next year!
Following the match I went to the wedding of one of my best mates Tony Cooper to Renae. It was a great ceremony in a park followed by the reception at which I was MC. The wedding had a Shrek theme with the bride and groom wearing Shrek and Fiona Masks, the groomsman and best man wore donkey and puss in boots tails, one of the bridemaids wore the fairy godmather's wings and the other red riding hood's cape. The three page boys wore dark sunglasses and white tails to represent the three blind mice. Oh and the bride' father wore a red velvet cloak and a crown as the King. I took a bunch of photos (unfortunately only with the camera phone as I forgot to get the good one). I will post them later as I'm not at home tonight and this PC doesn't have bluetooth.
Friday, September 09, 2005
More Katrina News
John
has a lot to say! He has even got on TV. - Glad to hear you are OK John.
Also Alithea has
published the story
of survivors LARRY BRADSHAW and LORRIE BETH SLONSKY.
12.5 hours to go
As I write this in 12 hours and 28 minutes time I will be standing on the field waiting for the ref to blow his whistle and start the grandfinal. I will be gunning for number 7 - he hurt his left ankle last week in the semifinal apparently. I touched him up in the last game we played them. My job is to intimdate him from wanting to keep the ball but to kick it as soon as he gets it. Else I will be tackling him so hard he won't see anything but dust.
We are gonna massacre these guys. And then afterwards we will thank them for playing the grand final with us and being good sports!
I am predicting we win by at least 4 goals.
Thursday, September 08, 2005
Loaded Dice
Here is a photo I took tonight where I managed to capture three dice in mid air. Click the image for a larger version.
Wednesday, September 07, 2005
Hullo World
Are you still there? I forgot to post on here for 3 days! I guess I have been busy and nothing has happened out of the ordinary. However life is great and the kids are growing up so well. Last night I went to a father - daughter night at Girls Brigade with the two oldest. They were beautifully behaved. We leant about Africa and part of the learning was beading the girls hair. So each of them have 2 plaits with beads in their hair - done by me!
Plaiting hair isn't a new experience for me - I have 3 sisters and a mum whose hair I have plaited numerous times as I was growing up, and now I have a wife and 4 daughters, and I have plaited Jude's and the eldest two's hair numerous times also.
Soccer training tonight (I couldn't resist throwing in something about soccer!)
Now its back to work.
Sunday, September 04, 2005
Happy Fathers Day
Just got home from the
LAN
.
Its 1:1 am but I'm too amped from the 3 cokes I drank to sleep yet - will do a little work then crash.
Happy Fathers Day to all you blokes with kids.
Happy Father's Day Dad.
It was weird not playing soccer today - but great knowing that the team mates with injuries have had another week to heal with no tough game today. The grand final next weekend will be awesome.
In the AFL finals so far this weekend, the Saints beat the Adelaide Crows in a close match, Geelong thrashed Melbourne today. The West Coast Eagles beat Sydney Swans in a last minute nail biter last night.
Tomorrow the Port Power take on the Kangaroos.
Can't wait!
Friday, September 02, 2005
I salute you Michael Barnett
From his blog
The Interdictor
Micahel Barnett and his team are the only reason you are reading this, as this website and most of the websites I manage are only on air due to their efforts.
DirectNic
is an internet hosting company also providing domain name registration and DNS hosting based in New Orleans. I use them for most of my websites.
In the aftermath of Hurricane Katrina the company has a small team holed up in the 11th floor of their building running the servers on diesel generators.
Here are some quotes from his blog started during Hurricane Katrina and getting over 3000 hits an hour.
As has become their nightly routine, police formed up in 2 rows of 4 cars on Poydras at dusk and started driving around city blocks over and over. I saw some one car stop at a group of people camped out on a Camp Street sidewalk and question them, but then the cops drove off and left them alone.
Then we had to take a router down to city hall to try to get the city rolling on their internet. That included wading through water. God, the city is a mess when you head down Poydras that way. The Superdome looks like the Jenin refugee camp. God help this city. Whether or not it ought to be rebuilt is secondary to the real issue: can it be rebuilt? Looking around, I wouldn't know where or how to start. Good luck with that.
Dead bodies everywhere: convention center, down camp street, all over.
National Guard shoving water off the backs of trucks. They're just pushing it off without stopping, people don't even know it's there at first -- they drop it on the side in debris, there's no sign or distribution point -- people are scared to go near it at first, because the drop points are guarded by troops or federal agents with assault rifles who don't let people come near them, which scares people off. It is a mess. When people actually get to the water, they are in such a rush to get it that one family left their small child behind and forget about him until Sig carried him back to the family.
It's raining now and I guess that's a relief from the heat. It's hot as hell down there in the sun. Crime is absolutely rampant: rapes, murders, rape-murder combinations.
Please pray for New Orleans and its people. Thanks Michael and "Bigfoot" and the people who do what they can regardless of the circumstances.
Thursday, September 01, 2005
Hurricane Katrina
Fortunately Katrina hasn't directly affected me yet - though it may - even though I am in Australia. How you ask?
Read here for the answer
.
Fortunately
John
who lives just north of New Orleans in Covintgon LA is OK.
MTV and teenage lifestyle choices - are they related?
CPYU
writes a revealing article about the current rash of "Reality TV" shows. This illustrates graphically some important lessons on what we should allow our children and teens to watch, how to understand why they are watching it, and how to help them make healthy media choices.
Required reading if you have a teen or child interested in these shows.
Some of the shows discussed include:
The Real World: San Diego
Rich Girls
Newlyweds: Nick & Jessica
'Til Death Do Us Part: Carmen & Dave
Room Raiders
Taildaters
Dismissed
In all of these programs, the relationships are built purely on the shallowest of criteria.
Tearaway
has a great article about abstinence and some New Zealand statistics relating to teenage pre-marital sex.
Another article
tells the stories of three young girls who became young mums.
Are these related in anyway? Is the huge upsurge in public(TV) displays of out of control behaviour (drinking, partying, short term physical relationships etc) which is generally contrived for the camera followed by lifestyle choices by teens that includes pre-marital sex at early ages, binge drinking and behaviour disorders including uncontrolled anger, poor work ethics and self discipline?
Why is that some kids make straight As, are athletic and motivated and others are lazy, with poor personal habits and a seeming prediliction to addictive activities and behaviours?
Obviously (to me anyway) parental and sibiling influence has a huge impact. How they learn discipline and good attitudes is largely connected to the attitudes of the parents, the language and behaviour used around the home, and the influence and connection with peers. Parents who make sure their kids do not associate with the "bad apples" are often lambasted by other parents, school teachers and the kids themselves. But the kids will thank them for it later in life!
Thanks Mum and Dad for daring to be different.
Soccer & Shrine
We went to the city today on the train to visit the bank and rearrange some accounts and then went to the accountants to sign the tax returns. The kids loved the trip and had some fun times. Before we came back we visited the Shrine of Remembrance under the eternal flame rotunda. It was a good to chance for the kids to understand that thousands of men and women gave their lives in the defence of our country and its ideals.
Soccer training was great today. We had a blast with a week off this Saturday before the grand final next week.