Monday, November 29, 2004
8 year old: Enjoy being a kid before you are an adult
5 year old response: I want to be a boy so I don't have to have babies
Sunday, November 28, 2004
Well I didnt receive the 75% vote I needed to make it onto the church board.
I some ways I am disappointed as I had grand ideas of changes I wanted to make in church.
After talking to some people though I am more positive and happy that this is the result. Now I have the ability to take issues and ideas to the members directly without being shackled to a board that would restrict the ability to communicate ideas that it didn't agree with as a body.
Some of the 'radical' ideas I will continue to espouse in the church and will also discuss on here include:
Empowering members to minister in their local streets, places of business and extended families.
Reducing the "club mentality" that exists at church where people want a safe, "seeker sensitive" environment to come to. For me these words are excuses for them not actually facing the confronting message that is the gospel and ignoring the fact that their unsaved friends and family are going to hell without their direct internvention.
To this end I will continue my existing efforts to teach and mentor young people in the area of envagelism and reaching out to their friends, and continue to explore the models of sub church culture that are vehicles for these types of empowered ministries to occur within.
Complacency is the Enemy of Achievement. (I made that up!)
So for those who have come here looking for emerging church stuff and living proof christianity recently and found a paucity, sorry, but I have found myself rather unwillingly shackled by this whole process of board nomination and acceptance.
The gloves are off now. Back to examining church as its done today and why its not relevant to 90% of Australians (there is a connection there!) and what we can do different to change that.
Thursday, November 25, 2004
Jono has posted some
pictures of the Ukraine Election Protests in Kiev
.
Check them out.
I hope this doesn't turn into a civil war.
It appears America may get involved. Articles from
New York Times
and the
San Diego Union Tribune
indicate Colin Powell's involvement.
Yushchenko's supporters have started a
national strike
.
Wednesday, November 24, 2004
My brother
Jono
is in Kiev right now. or Kyiv to spell it the Ukranian way. The elections there are crazy. I am hearing so much on the radio over here in Australia.
ABC News Article.
Jono has
posted some information
about the elections and as I was chatting with him on MSN earlier he said he was going to try and get some pictures up later.
Check out
his perspective on the elections
firsthand.
Tuesday, November 23, 2004
I have stopped procrastinating and am trying to reach the 50,000 word mark by the end of November.
Today I got a few thousand words done and am up to 17,217. Way behind but I am working on catching up.
Chapter 14
and
Chapter 15
are now posted up.
I am currently travelling away again.
Here are some of my favorite blogs I read when on the road.
Maybe you know these guys maybe you don't. Feel free to drop in and tell them I sent ya.
The Cursed Juggler
The Knight of Blogging
The Marathon Runner
The Crazy Lady
The American Fish in the Insane Fishbowl called England
The Wife of Mike
The Preacher
The Honest Housewife
The Novelist
The Doting Grandma
and last but not least
my favourite wife
.
Something I wrote several years ago as I contemplated my mental state.
I continuously scan all channels – audio, visual, oral, touch, all sensory faculties at constant alert, my mind is in overload and burning out – I feel as if I cannot record any more information in my memory, whether RAM or ROM or Cerebral. – I am like the archivalist of time, forced by circumstances to record every second of time, all significant events, monotonously like a stenographer in a court room, drowning out all external influences and thoughts - only I do not have that luxury of singlemindedness, I must catch hold of the seemingly insignificant nuances of life, the trouser tugging of a toddler, the eye catching smile of an infant, the underlying smouldering desire of a loving partner and friend.
I am aware of several simultaneous threads of thought and conversations happening, both with other people, and mostly myself. I talk to several alter egos at a time. If that is the clinical definition of schizophrenia, then maybe I am, but I don't think it is and therefore by my own definitions I am not, but I digress. (Editor's note: Troy always says I digress and I know I do it but he puts up with it if it contributes and doesn't tell me to f@#k off)
Sunday, November 21, 2004
I have always loved the story in
John chapter 8:1-11.
It tells of a woman caught in adultery brought to Jesus for judegement. It was actually a test or trap for Jesus set by the pharisees, but it backfired on them.
Real Live Preacher has dramatised ths story in two parts.
Part 1
and
Part 2
He makes it very poignant and real.
To me this story tells me that God is the only Judge that matters, not man as we are all sinners.
In this case Jesus forgives the woman, and instructs her to go and change her life.
We are all given that opportunity, but not always do we
choose to take it
.
Saturday, November 20, 2004
Photo Friday
challenge
Patterns
Friday, November 19, 2004
I have had a HUGE week.
In the last 7 days I have gone to an animal farm with the kids,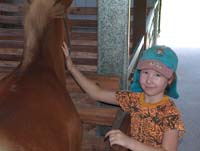 run the Grand Final
KROSTech
LAN for 2004, gone to church, finished updating the
church web site
and gone live, worked for clients for 3 days, worked on finances and web development stuff 1 day, edited, altered and finessed the church budget for 2005, done 2 exploratory meetings with potential new business partners, coordinated a series of meetings (to start next week) between one of my major clients and a software company whose products I think will benefit them, played running races with Jadeen and Erin, attended a Girls Brigade Nativity Play, taken Miranda to basketball and played basketball myself, hosted home group (at least I didnt have to prepare the talk this time as we watched a video on
Ian McCormack's
Near Death Experience) watched two movies with my
wife
, eaten 5 icecreams, drunk 3 cokes, 4 vanilla cokes, 2 XS, 3 Gatorade, 3 Bundaberg Ginger beer, 2 Kirks Dry Ginger Ale, 1 Solo, 2 coffees, 1 iced coffee, 1 rose and mango tea, some milk, apple juice and a lot of water, killed 3 large cockroaches, emptied the paddling pool and refilled it twice, fed my fish 4 times, written 1,900 words in my
novel
, written the longest sentence on my web site ever (this one), published 20 blog posts on various blogs, and my brain is struggling to remember the rest...
I have also read a bunch of others web sites but havent had time to make comments, I will get around all my normal ones over this next week and say hi.
Thursday, November 18, 2004
I have completed
Chapter 12
and
Chapter 13
in my
MaNoWriMo
Novel.
I am a fair way behind at 14,850 words but next week while I am travelling I will have a fair bit of time for writing.
Tuesday, November 16, 2004
I recently posted some
information regarding Operation Auxin
that resulted in over 200 arrests relating to child pornography in Australia. 4 people already have committed suicide over this, rather than face the wrath of the other crims inside jail. "Rock Spiders" are dealt with very harshly by other criminals.
Reverend Dr Gordon Moyes writes a
compelling article
against the evil that child porn is.
Sunday, November 14, 2004
The Grand Final of the LAN was a huge success.
Our team lost - narrowly as it happened. SO we were runners up - but it was a fantastic night.
Battlefield 1942 Desert Combat we could have won had we had a couple of extra players, we were playing with three less than the other team. In Warcraft we got our butts kicked, and in Moto GP2, we would have also been beaten. Because by that time we had already lost the final we just played a 'friendly' game!
V8 Supercars and Insane Racing along with UT 2004 were also fun games.
I am completely ready for bed.
Good night!
Saturday, November 13, 2004
Write 8,771 words for my
NaNoWriMo
novel
Urban Space
.
Pack up the PC's in 1 hours time and take them to the
LAN
I am running today.
Maybe I can write while the others are playing games....
Friday, November 12, 2004
I have fallen behind my required word count - though I hope to rectifiy that soon.
Currently 12,900 words. so I am quarter of the way through.
Chapter 11
posted today.
Thursday, November 11, 2004
Courtesy of the
Sandman
on SBS tonight.
"Farts are like Snowflakes - they are all different!"
I have just finished reading the transcript of Osama Bin LAden's speech as published on
Aljazeera
.
I would recommend all Americans, Australians and British people read it.
Understand the man's intentions and motives and maybe research the interviews he had with various journalists as referred to in the speech.
While I think I understand his point of view, I still believe that the war on Iraq was necessary from the perspective of removing Saddam Hussein but I don't see the ongoing conflictit as necessary.
I have understood economically all along that the "war on terror" in both Afghanistan and Iraq has actually been about control of oil resources. In fact the war on Iraq was primarily started because the USA lost control of Afghanistan's oil to the Russians when the Northern Alliance jumped in ahead of them. Specifically control of pipe lines from the Caspian Sea. (
World Press
has some great articles about this.)
Any economic student of the Austrian school of thought understands that the massive expansion of the money supply will eventually end in collapse.
How soon before America bankrupts itself and thuis achieves Osama's goal. I have read articles in Time magazine suggesting the same thing. Already its dollar has weakened, and the war is a necessary economic (although artificial and temporary) attempt to boost a failing economy. However it cannot be sustained and the inevitable collapse after the war ends could result in hundreds of thousands of job losses, massive hikes in interest rates and spiralling inflation.
All that said and done I don't condone Osama's use of violence, but I think I maybe see his point of view.
Wednesday, November 10, 2004
Sometimes its very rewarding being a geek.
I just ordered my sub from Subway using their
online ordering system
. I then drove down to the store to pick it up.
The store was full and there were 8-10 people in line. I was able to go straight past them all to the cashier and pay for my sub (which had been made already) and go, before the next person in line had even been served. The dirty looks I got were worth it!
Geeks rule!
Chapter 9
and
Chapter 10
posted.
I am behind (due to not doing anything last weekend)
Currentlly at 11,700 words and I need to be at 16,667 by end of the 10th of November.
I guess I will be writing lots later on today - now I am going to bed!
Tuesday, November 09, 2004
I am a real busy boy right now.
Still I took some time out on Sunday to be a fashion model.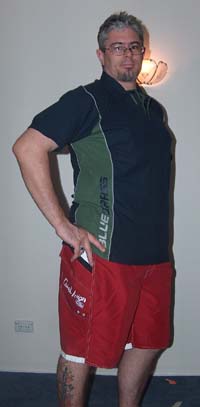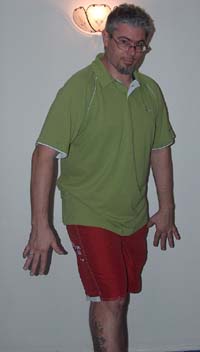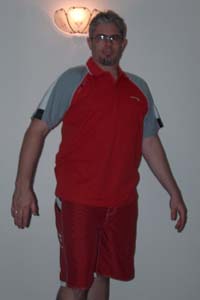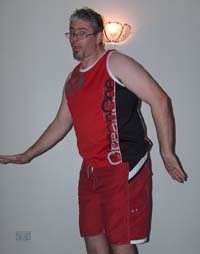 Actually my
wife
made me go shopping and update my polo shirt collection. I also took the opportunity to grab a new pair of pants and a singlet for basketball. 30% off sales are great!
Then she made me model them for her. Notice the really cool fashion model stance. I thinking about quitting the day job and heading for the runway! (That is also a geniune halo above my head not a wall light)
Lots of other stuff on as well, church functions, web site development for myself, church and clients as well as normal client work and now I need to write some more of my novel
Urban Space
.
We home school our 4 children. Actually only 1 right now, with the second starting officially next year, though she is currently starting her ABC's. Even the 3 year old gets involved in this process.
We use the phonics method and use the
School of Tomorrow
curriculum supported by the
Australian Christian Academy
.
An article that backs up our choice for this method of learning to read over the whole language approach was printed in
The Age 8 November
The article cited a sudy here in Brisbane that returned a result of more than half the teachers and final-year trainee teachers questioned didn't know what a syllable is.
The scary part is this isn't new.
"Why Johnny Can't Read"
and
"Why Johnny Still Can't Read"
were published in 1955 and 1983 and explain why the whole language approach doesn't work.
The Reading and Language Arts Centre
posts an excellent article about it also.
What does it take for the national education system to be changed? Maybe its when enough parents remove their kids from the badly performing public schools.
Sunday, November 07, 2004
Powering on in the writing department.
So far 10,500 words.
Chapter 7
and
Chapter 8
are posted.
Thursday, November 04, 2004
I have completed
Chapter 4
,
Chapter 5
and
Chapter 6
and posted them. Over 8,100 words so far!
Wednesday, November 03, 2004
I have completed
Chapter 2
and
Chapter 3
and posted them. Over 5,000 words so far!
Tuesday, November 02, 2004
Dr Octopus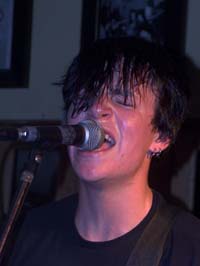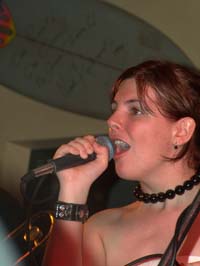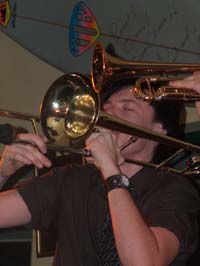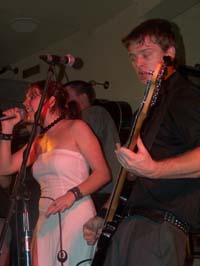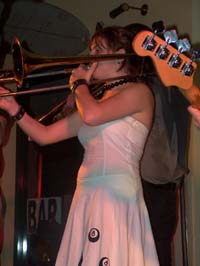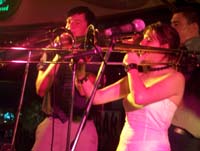 Monday, November 01, 2004
Latest news in this case is that already 6 men in Australia have committed suicide in relation to being charged or questioned over this.
I am not going to really comment on this one - but will post a few links to news sites.
For the record, I am totally against child pornography in all forms. This whole thing disgusts me. However I do feel sad for the innocent families of the people involved. They will probably suffer for the crimes of their relatives, and that is not fair on them. It is also sad for those whose fathers and husbands have committed suicide over this rather than face their punishment like men. Maybe because they weren't men - but animals to have involved themsleves in this debauchery to start with.
Able2know
News Channel 34
The Australian
Fairfax Digital
The New Zealand Herald
ABC News Online
Four suicides follow Australian child porn swoop
Reuters
October 04, 2004, 11:55 BST
After 200 arrests and 2,000 charges being brought over child porn offences in Australia last week several of those implicated have since taken their own lives
Four Australian men have committed suicide after being caught up in an investigation into child Internet pornography that has resulted in more than 200 people being arrested and charged with 2,000 offences, police said on Saturday.
Justice Minister Chris Ellison said 700 Australians were now under investigation in the country's biggest child pornography crackdown and up to 500 people could eventually be arrested. "It's regrettable that four people, the subject of charges, have taken their own lives," Ellison told reporters. "But this investigation is an extremely important one in dealing with criminal activity which deals with the violation of innocent children," Ellison said. "This will not deter, in any way, the investigation."
The four men, one in Western Australia state, two in Victoria state and one in Queensland state, killed themselves after being interviewed by police. Two had been charged with pornography offences.
Police launched Australia's biggest child pornography crackdown on Thursday, raiding 400 premises and arresting hundreds, including police, teachers, clergy and a child-care centre owner. Those arrested in Operation Auxin face charges ranging from sexual abuse, to downloading and distributing pornographic images to child sex tourism. More arrests are expected, say police.
A 46-year-old electrician was found dead in his car at his home in Bunbury in Western Australia on Friday after he failed to appear in court earlier in the day. He had been charged with three counts of possessing child pornography. "His body was discovered by a friend who was concerned for his welfare," a Western Australia state policeman said. "From what we can ascertain so far, it appears he has died by his own hand as a result of carbon monoxide poisoning," he said.
In the southern state of Victoria, a prison guard's body was found in his car on Friday after he was interviewed by police a day earlier, said local media. Another man's body was found in Victoria after being interviewed by police. "Victoria Police can confirm that two men have died after being the subject of separate police inquiries," a spokeswoman said. "One man had been spoken to in relation to Operation Auxin. Neither man had been formally charged with any offences."
In the tropical northern state of Queensland, a former police officer facing 46 charges related to child abuse computer games, was found dead last month in the first phase of the child Internet pornography investigation, Queensland police said. "There were no suspicious circumstances," a police spokeswoman said Saturday. The officer was relieved of his duties in June when the pornography allegations first emerged. The day before he killed himself, he was ordered to appear in court to face 46 charges.
The Australian child Internet pornography crackdown stems from a US investigation in February that produced 95,000 child pornography leads worldwide, say Australian police. Police say US authorities, mainly the US Customs Service, called a meeting with Interpol in February and revealed Internet child pornography mainly from Belarus in eastern Europe.
Australian police have yet to examine 400 computers and other material seized in 400 raids in the past week. Police said some people arrested had child pornography libraries with more than 250,000 images collected over three decades and what appeared to be home studios designed to produce child pornography. Dozens of those arrested have appeared in court, including a male Sydney school teacher who faced 22 child pornography charges that include setting up a video camera behind a mirror in a school changing room to film young girls undressing.
I have posted
chapter 1 of my novel Urban Space
.
So far 2,156 words. 47,844 to go!
Part of the
NaNoWriMo Challenge
.